You may have just read our recent post where we told you the Tata Indica is available at a considerable discount. Turns out the offer is not limited to the Indica only, as almost the entire range of Tata cars seem to be packing an offer of sorts.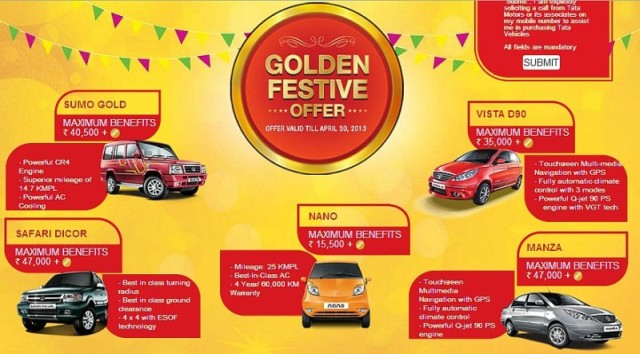 Called the 'Golden Festive' offer, Tata says that you can avail these deals until April 30, 2013. It seems a free gold coin is a standard gift when you buy a Sumo Gold (pun intended?), Vista D90, Nano, Safari DICOR or a Manza. The offer doesn't seem to be extending to the Safari Storme or the Aria however.
Apart from the gold coin, there are cash discounts being offered on these cars as well. Ranging from about Rs. 15,500 for the Nano to about Rs. 47,000 for the Safari DICOR and the Manza, Tata wants to ensure that you get a sweet deal.
The auto industry in India is certainly witnessing a slowdown in terms of sales. The SIAM (Society of Indian Auto Manufacturers) had to revise their projected growth of the industry more than once and the expectation keeps dropping. Right now, the expected growth rate is about 0-1%.
Hence, with discounts like these, car makers would certainly like to see their products roll out of their showrooms quickly.
[Source: Tatamotors.com]