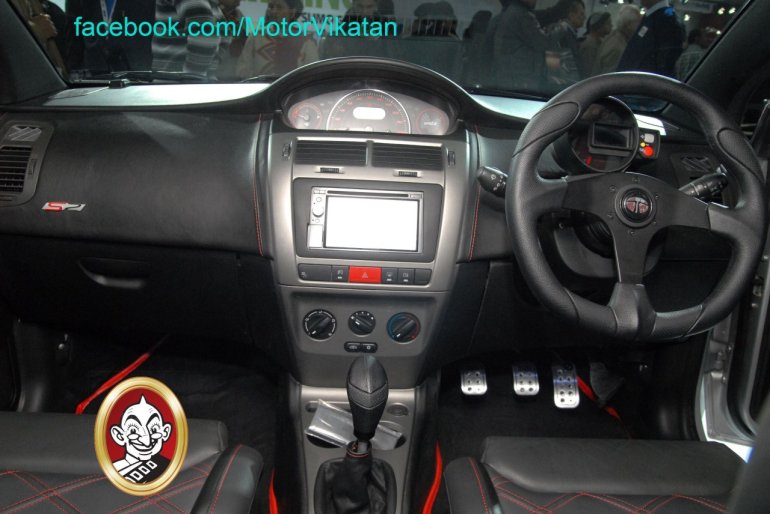 At the Delhi Auto show earlier in the month, Tata thickly populated its pavilion with the most interesting exhibits. Tata brought down technologies, unreleased models and concept vehicles that not only provided the route map of the company's new journey but also promised a boom-filled 2012 and 2013.
Standing next to the Manza Nova concept was the Indica Vista Concept S2. On first glance it looked like a kitted-up Vista with LED lights, different bumpers and two tone body paint, but there is more than what meets the eye.
Did you know that its interiors have been laid out differently? Thanks to our friends at Motor Vikatan, we are able to show you a rare image of what's changed. The interiors have been stimulated with the addition of a smaller diameter steering wheel, a sleek gear lever, drilled pedals, black upholstery with red stitching, a rev counter on the steering column (a la Beat) and an infotainment system controlled by a giant LCD screen mounted below the AC vents.
Under the hood, Tata continues to explain this isn't just a fancy-bodied vehicle meant for show. A turbocharged 1.4L petrol engine producing 140PS/188Nm is paired to the same 5-speed manual transmission with revised ratios powers the vehicle. It is equipped with 205/40 R17 low profile tires shod on 17 inch alloys.
8/10 Vistas in the market in recent times are diesel variants. There is limited demand for a naturally aspirated, petrol-sipping engine, leave alone a fire-breathing turbocharged unit. The cosmetic additions carried over to the road-going model could make the Vista a lot more sporty but otherwise the takeaway is minimum.
Can the Indica Vista S2 act as a good vehicle for a feeder series? That certainly sounds interesting!
[Source - FaceBook.com/MotorVikatan]