The Ssangyong LIV-1 joins the never ending line of concepts from the South Korean automaker who is now under the ownership of the Mahindra Group.
It's not even a month since the company unveiled the SIV-1 concept at the Geneva Motor Show and the car maker is ready with yet another concept, this time for the Seoul Motor Show which commences on March 28th.
Called as the LIV-1 which stands for Limitless Interface Vehicle, the seven seater SUV concept previews a vehicle which would be smaller than the Ssangyong Rodius but bigger than the Rexton. Over the last year, Ssangyong has invested heavily on the directing its future design by showcasing these concepts at every given opportunity, and with each attempt, the results are getting better.
The SUV has a sturdy stance with an appropriately sized hexagonal front grill and narrow peeled back headlamps. The bumper occupies most of the frontal area, which lacks a secondary air dam. The fog lamps look like LED units and there are small intakes below their enclosures to cool the tires.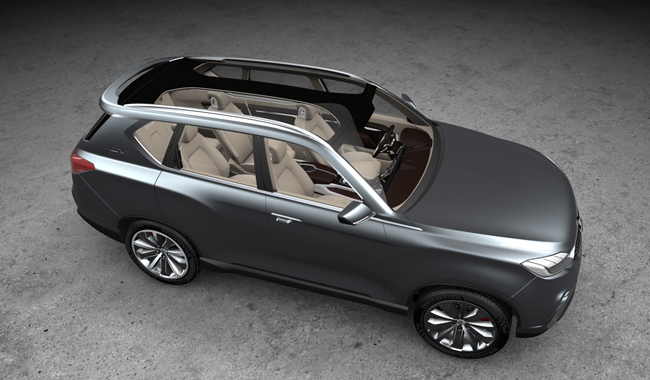 Coming to the side, the huge wheel wells feature flared arches. The sheet metal is full of contours and creases but understandably the production model would feature a watered-down version of this design.
The rear door handle is hidden in the C-pillar. The rear quarter glass sweeps upwards to form a triangular element resulting in a thick D-pillar.
The rear taillights complement the shape of the headlamps, while fog lamps feature at the rear too. The interior has a 2+2+3 seating arrangement making it suitable for countries like India.
There are no powertrain details available yet but things should be clear as and when the veil comes off the concept on Thursday. Stay tuned to Indian Autos Blog.