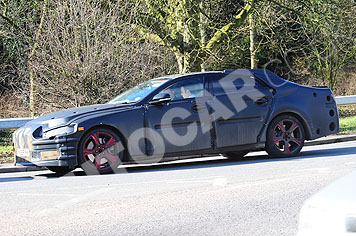 Scoop! Autocar's spy photographers have caught a heavily disguised next generation Jaguar Xj undergoing testing. It is understood that the XJ is just a few weeks from being unveiled and scheduled for the market in 2010.
Behind the extensively masked exteriors lies a revolutionary design that is even more striking than the XF. The spy shots also indicate that the XJ carries a glazed roof. There are hints of the Xj220 supercar in the shallow side windows and glazed roof.
It still retains the all aluminium construction of the current XJ but has been thoroughly redesigned. Jaguar design boss Ian Callum is aiming to finally reinvent the company flagship's styling language some 41 years after the original XJ was launched.
Those who have seen the call new XJ describe it as "very long and very low" with a coupe-like roofline.The styling will surpass all expectations and with radical new interiors that will feature subtle LED lighting and all possible creature comforts.
Power comes from Jaguar's 3.0l V6 turbodiesel in either 233 bhp or 269 bhp state of tune and the V8 with either a naturally aspirated 377bhp or a supercharged R version with 500 bhp. India is set to get the Jaguar brand in the later half of 2009.
2010 Jaguar XJ Image Gallery
Source- Autocar UK