The Skoda Vision X concept had its world debut at the 2018 Geneva Motor Show this week. Here are its live images from the Swiss show.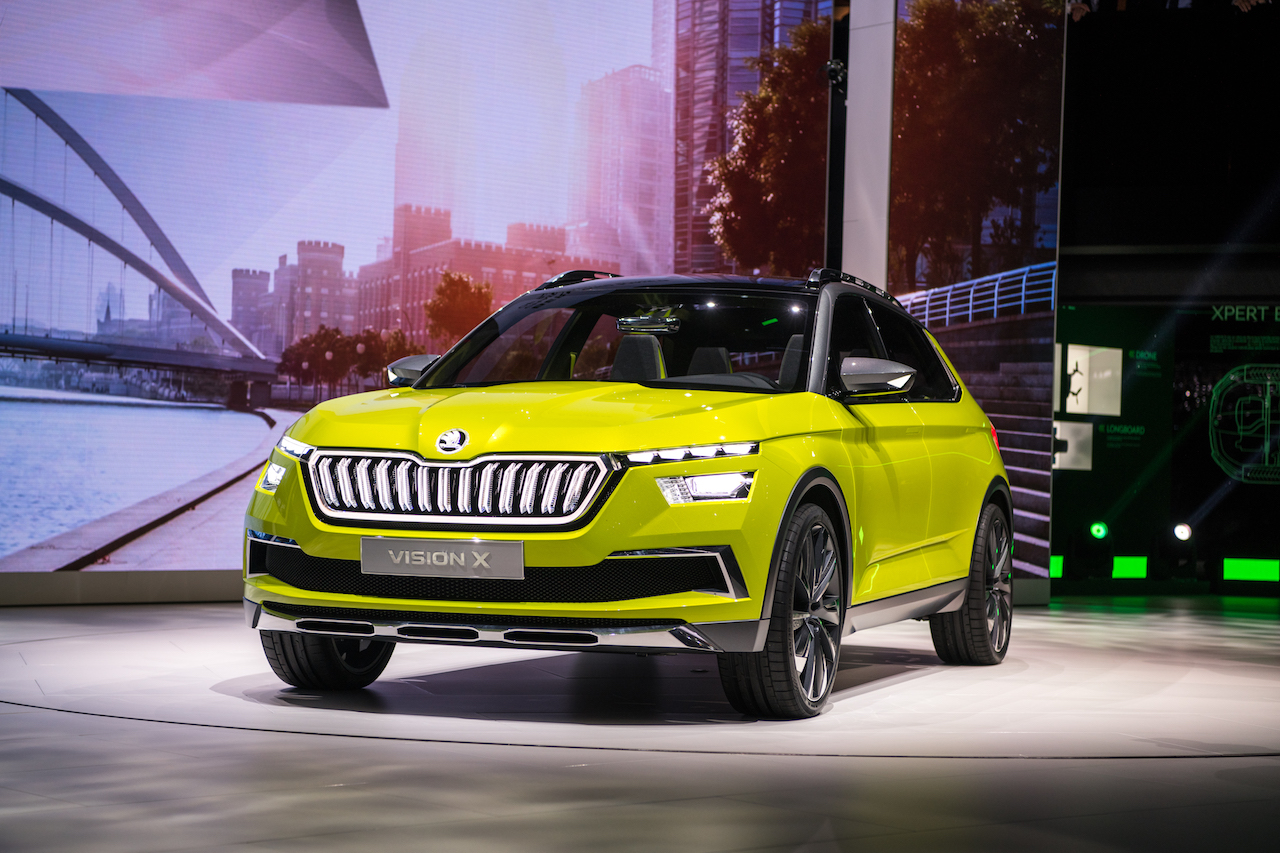 The Skoda Vision X concept measures 4,255 mm in length, 1,807 mm in width and 1,537 mm in height. It has a 2,645 mm wheelbase and a 380-litre boot capacity. The concept previews a future urban SUV that will go up against the likes of Volkswagen T-Roc and Seat Arona.
The Skoda Vision X concept, painted in an eye-catching FlexGreen colour and fitted with anthracite accessories, has reinterpreted Skoda SUVs' familiar design in a sporty yet luxurious way. Its most striking feature, its designer Dalibor Pantucek says, is its "face". Ultra-slim LED DRLs sit above the small, boxy headlights, creating a very aggressive look. The Skoda logo sits on the dramatically shaped bonnet over the grille, which is quite eye catching. The upper grille has robust dual crystal bars and its entire frame is made of crystal. Bright backlighting further accentuates the frame of this grille.
On the sides, 20-inch wheels give a powerful look to the Skoda Vision X concept. The floating roofline emphasises the low stance. At the rear, the lights, although divided, still make the traditional 'C' shape and emphasise the car's broadness. Their upper segment consists of the signature crystalline pattern.
The Skoda Vision X concept's production version won't look much different. Its exterior design follows the Skoda principle of "what you see is what you get." The interior, of course, is rather visionary and only a small percentage of the design may get carried over in the production version. The virtual instrument cluster, at least, is likely to make it to production.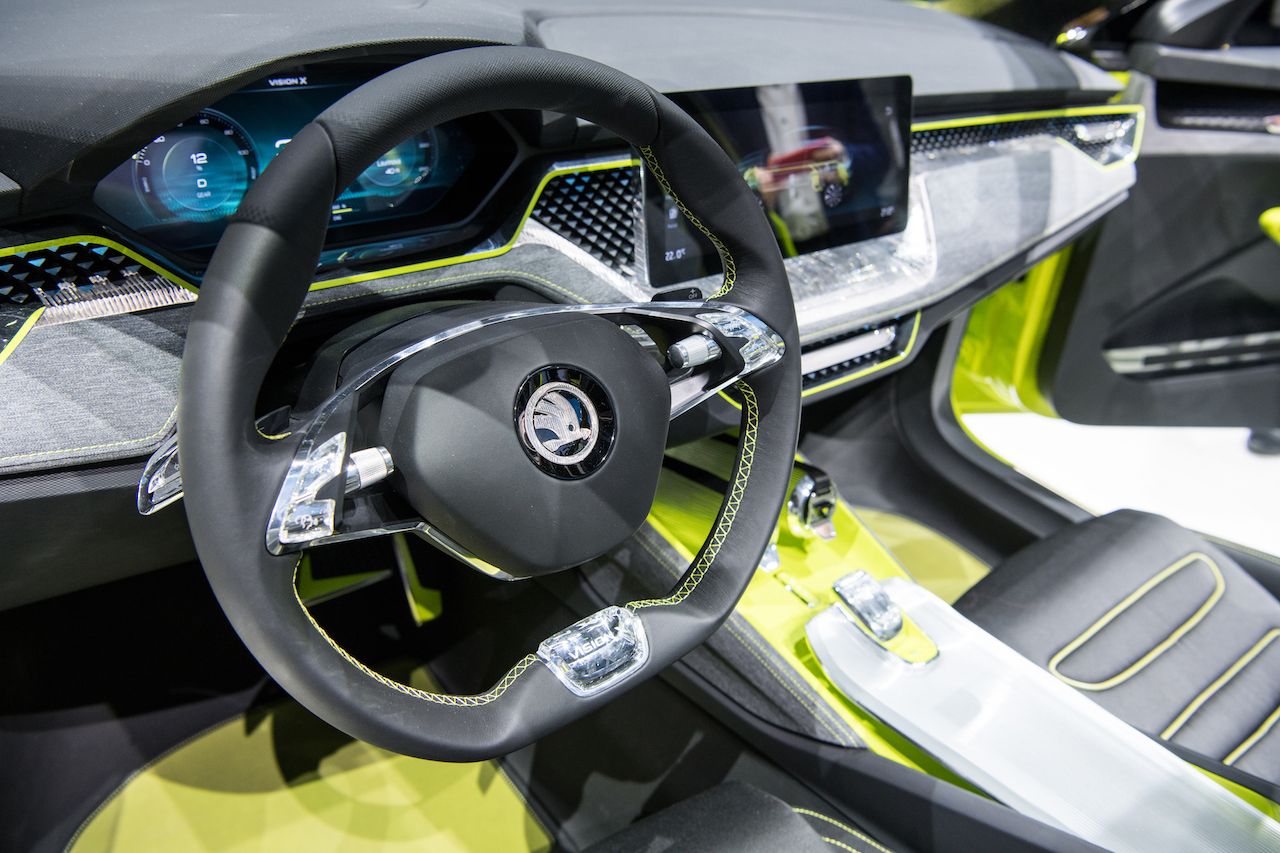 Like the Skoda Vision X concept's interior, its drivetrain is also a little bit further into the future. The innovative drive concept combines CNG and petrol-powered drivetrain and two electric motors. Skoda engineers have employed a 1.5-litre TSI G-TEC turbocharged four-cylinder engine specifically designed for use with CNG. This CNG drive develops 96 kW (130 PS) and 250 Nm of torque. It drives the front axle. There are two CNG tanks, one located under the rear seat and the other behind the rear axle.
The combustion engine is equipped with the first electric motor - a belt-driven starter-generator (BSG). The second electric motor is on the rear axle, powered by a 48-volt Lithium-Ion battery system. Thanks to recuperation, the Lithium-Ion battery powering this electric motor charges while driving. The second electric motor is activated as needed - to create a boost effect for a spirited start or to improve the traction on smooth surfaces and off-road. A compact energy storage unit stores electric power enough for a short zero-emissions drive of up to 2 km.
The Skoda Vision X concept is the company's first AWD vehicle not using a cordon shaft, and this means that it is lighter and thus more efficient. It drives with front, rear or four-wheel drive as needed. In addition to two CNG tanks and a battery system, there's a petrol reserve tank. A total range of 650 km is available. The SUV takes 9.3 seconds to accelerate from 0 to 100 km/h and has a top speed of 200 km/h. It has an impressive CO2 emissions rating of 89 g/km.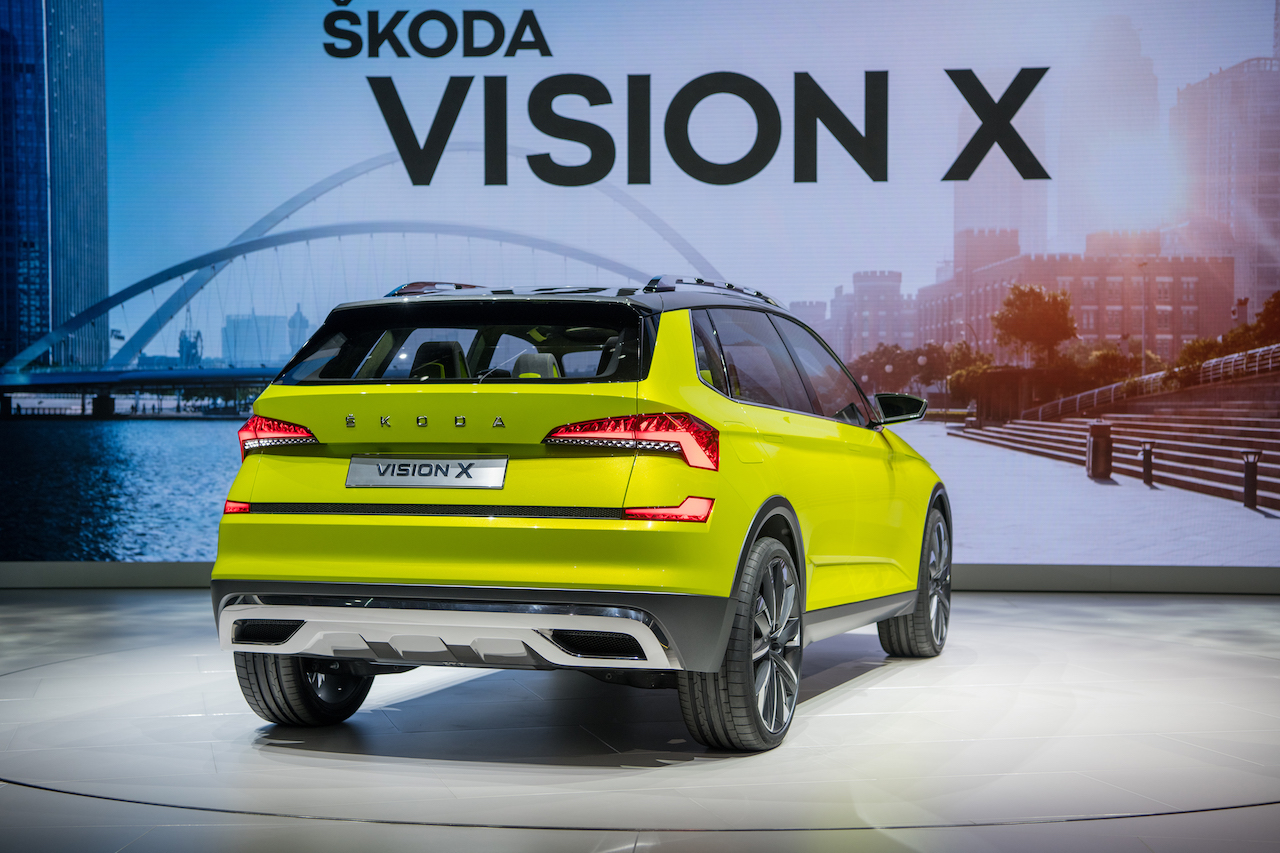 Also Read: Skoda Vision X concept's production version to lead locally manufactured MQB range in India
The Skoda Vision X concept's production version is expected to go on sale in Europe in 2019. India may get it in a long-wheelbase version, as the first locally manufactured MQB model, around 2020.