The Skoda Rapid was unveiled on the 8th anniversary special broadcast of the NDTV Car and Bike Show. On this special occasion, our very own Auto Editor of NDTV Siddharth Vinayak Patankar remarked -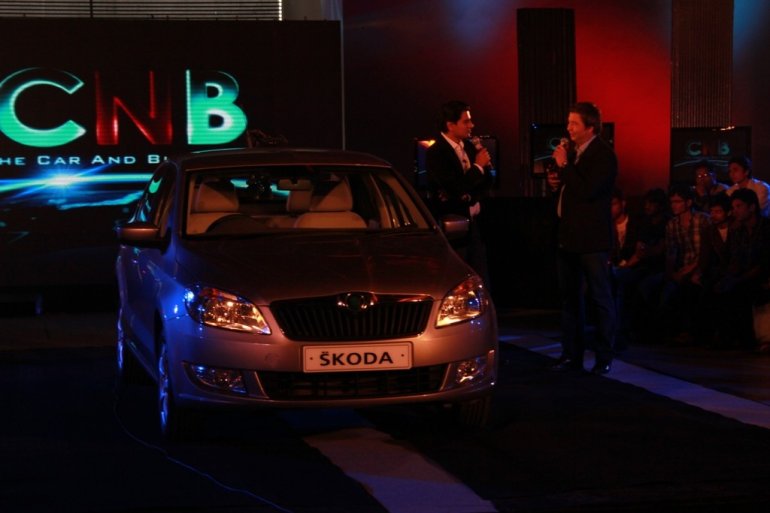 We began in October 2003, with the honest intention to present the best from the world of automobiles to our viewers – and I mean the whole world. I am happy that the original intent remains intact, and we have been able to build on that foundation to challenge our own boundaries and continue to excite our faithful audience.
Skoda chose to exclusively debut the C Segment Rapid on CNB as a birthday gift to Siddharth and his team. Moreover, CNB is one of the most watched automotive shows in India and hence is an excellent platform for the Rapid. Of late Siddharth has been riding on a slew of exclusives. A notable example was the first drive experience of the Beat diesel which influenced buying decisions of many IAB readers too after we directed so many of our readers to the NDTV video page.
However Siddharth's show hasn't been true to its name. Besides cars and bikes, he was seen describing the Tata Prima's drive quality and in recent episode compared the Ashok Leyland Dost mini truck with rivals!
The Skoda Rapid unveiling is an international exclusive and variations of the sedan sporting the VisionD design language and liftback body style will reach European, Chinese and Russian shores over the next one year. Hopefully Siddharth will bring us some relevant details on the same in the forthcoming episodes.
In the press release issued documenting the landmark episode, Skoda describes the Rapid as a "compact limousine."
Skoda also used this opportunity to announce the base versions of the Yeti and Superb. On part two of the program, you will get to see the Hyundai Eon and stalwarts from the auto industry such as Anand Mahindra, VC & MD, Mahindra & Mahindra; BVR Subbu, Former President, Hyundai Motor India; Nigel Wark, Executive Director – Marketing & Sales; Actor Gul Panag; and Arvind Saxena, Director – Marketing & Sales, Hyundai Motor India, some of who are also Indian Autos Blog readers.
The special two part anniversary program can be viewed on Saturday October 15 at 1:30pm and Sunday, October 16 at 7:00pm on NDTV Profit.
Indian Autos Blog wishes Siddharth and his team a very happy 8th birthday!
Will you watch the second installation of the anniversary edition?