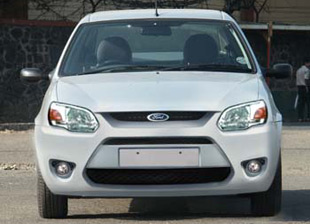 We always knew that Ford was planning something with the Ikon which was long in the tooth. It was not discontinued even though its sales reached an all time low and even its larger sibling,the Fiesta outselling it.
With the lower midsize  hotting up with the advent of the Tata Indigo CS,the Swift Dzire which have got off to a great start,Ford is vying for a piece of the pie as well.So what better way to do it than renew the Ikon?
The big news however comes in the form of an all new 1.4 diesel which has carved out a niche for itself in the Fiesta and has a great reputation for outstanding fuel economy.Also,the reason for the shelving of the Fiesta 1.4 seems to be lucid now.Ford wants the Ikon to cater to those who want a smaller engine.
It is still not clear whether the Ikon will get the 1.3 ROCAM or the Fiesta's 1.4 DuraTec petrol. The Ikon's party piece was its on road dynamics and these are expected to remain intact which is great news for enthusiasts. Its likely to be priced at around Rs 5 lacs which would surely give stiff competition to its rivals.
We will bring you the road test as soon as the car is launched.Till then, bookmark www.indianautosblog.com and visit regularly.