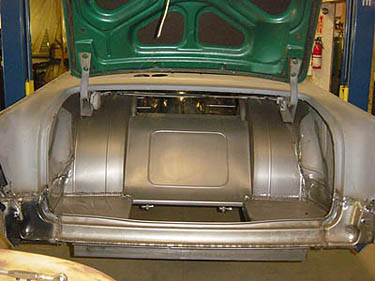 It is recognized that lighter cars excel is all aspects- performance, handling, mileage and costs. We even saw a earlier post on Maruti Suzuki considering weight reduction on its future models here. Sabic Innovative Plastics and Azdel Inc, two American companies, have introduced a new composite material which they say can at large, replace steel in some automotive applications, reducing weight and increasing fuel economy.
They have come up with a layered hybrid thermoplastic composite called IXIS 157,which is 50% lighter, possessing greater resistance to damage and is more affordable than steel due to curtailed tooling costs in stamping process. It is also recyclable and can reduce noise & vibrations, making it eco-friendly.
The composite is composed of a random glass fiber reinforced core with a 50 glass content, layered with a continuous unidirectional fiber reinforced thermoplastic. In essence, this material is lighter than aluminium, stronger than steel and cheaper than both. IXIS has been used in green concept vehicles like Chevrolet Volt and Hyundai QarmaQ, Supercars like the FORD-GT and utilitarian vehicles like Ford's Transit commercial van, which demonstrates the all-round performance of this material. Considering the rising cost of raw materials like steel, aliminium, and iron, the composite alternative appears to be a highly potential option for automobile manufacturers.
Source- Wards Auto