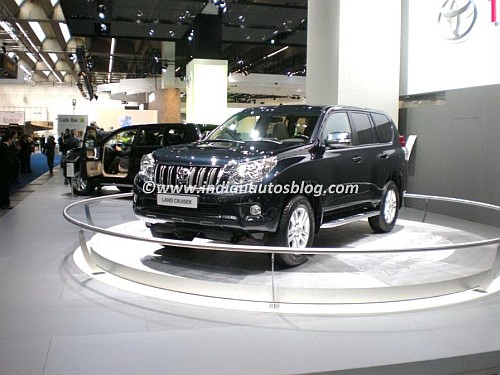 The new Toyota LC Prado debuts tomorrow in India. 3.0-liter diesel option likely
Toyota will launch the refreshed Land Cruiser Prado tomorrow in India. While we can't confirm if Toyota will include the 3.0-liter D-4D diesel engine to the Prado, we certainly can't rule out the possibility since the company has spoken about it before. The engine will be listed, but will it happen tomorrow?
We're heading to the launch to find this out. We'll also ask Toyota about their small car and plans they have for the Auto Expo. So come back tomorrow to learn about it.
The new Toyota Land Cruiser Prado was unveiled at Frankfurt in the second half of 2009.
The Toyota Prado comes with a 3.0-litre D-4D turbo common rail diesel engine coupled to a 5-speed automatic transmission. It produces 171bhp at 3,400rpm and maximum torque of 410Nm between 1,600 and 2,800rpm.
A ground breaking feature on the Prado is the Multi-terrain Select, which automatically controls power and braking according to the off-road surface, while providing you live video feeds through the four cameras placed around the car.
The Prado is expected to be priced around 40-50 lakh rupees. Be sure to check Indian Autos Blog tomorrow for more information.