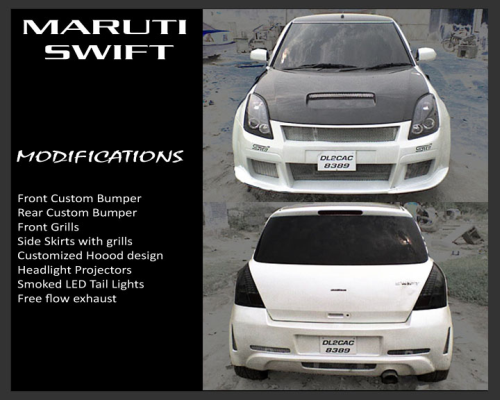 Chitkaran Singh of CarMods Delhi emailed us a handful of snaps of their latest creations. CarMods Delhi is a car boutique which specializes is exterior customization and once your car receives their treatment, it will never look the same again.
Given the number of cars in India on the rise constantly, you find that your car is just like your neighbors or friends'. Your car calls for a change, just like you, and that's where customization workshops like CarMods come into the picture.
CarMods offer after market fitments like projector lamps, custom bumpers and skirts for your car. They brag of having body kits for all cars in India in their store. If you happen to like their work and desire your car to be modified by them, you can email them at carmodsdelhi@gmail.com asking for the cost, details and availability.
Would you like your dealership or customization store to be featured here on IAB? Then, use the contact form to get in touch with us.