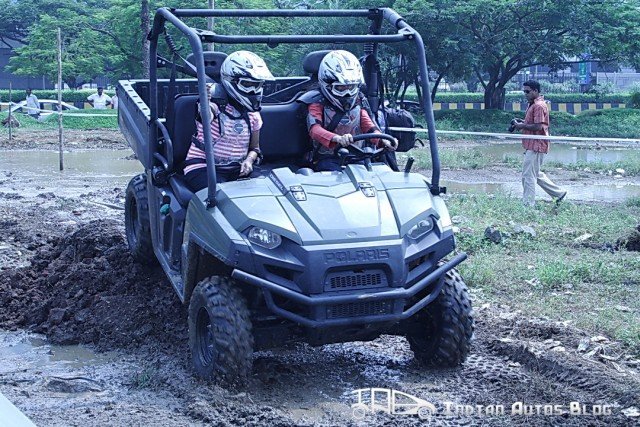 If you are following IndianAutosBlog.com religiously, then you should know what Polaris is and what they do. Recently, we were invited to a Polaris press conference in Chennai and we brought a complete low down on Polaris's foray into the Indian market.
But that was for Chennai where Polaris had tied up with MPL Group (MPL Adventure Sports Vehicles). But we just can't get enough of riding the ATVs from Polaris, so we were also invited to the Mumbai press conference.
Polaris has tied up with Navneet Motors (yes, the same ones who sell BMW, Range Rover and Aston Martins in India) to sell their huge range of ATVs in Mumbai. When we say 'huge range' by that we mean starting from 2.78 Lakhs onwards to 20 lakhs!
Polaris will sell a huge range of ATV (all terrain vehicles) and ORVs (off road vehicles) in India. But the cheery on the cake was that Polaris was generous enough to offer us an exclusive experience of their vehicles on a custom track prepared at Bandra Kurla complex in Mumbai. I got to drive the Sportsman and the Ranger on their track. Obviously, it was a small track so a detailed report on how these ATVs ride is not possible. But here is some information on them:
The Sportsman range starts from 455cc and goes right up to 850cc depending on how much power you can handle. Each ATV is equipped with Hill Descent Control, Electronic braking system and independent suspension on each wheel. Although Polaris recommends you to have a driving license, it is a very simple machine to drive. You don't even have to change gears because it comes with an automatic gearbox.
The Ranger, on the other hand, is a two seater vehicle with a flat bed boot for your luggage. You can choose to buy it with the 455cc motor or a much more powerful 760cc motor. There is also a 6 seater variant in case you want to have some fun with your family.
Personally, the Ranger is much easier to drive because of its electronic power steering. All the features from the Sportsman are carried over to the Ranger. If you are really ballsy, we highly recommend the range topping Ranger RZR XP which generates 88 bhp. With hardly any weight to lug around, the Ranger RZR XP is insanely fast on a challenging terrain.
Have a look at some pictures that we have taken for you and let us know what you think :)
Polaris ATV off-roading experience