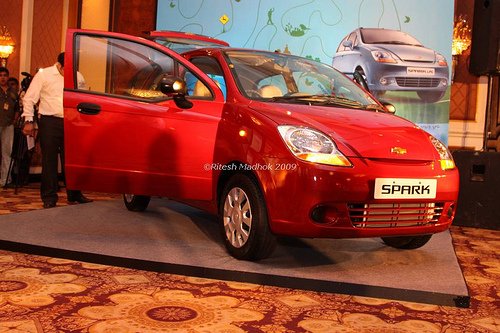 800cc Spark will serve as backup if the Beat and Spark fail to live up to expectations
The 800cc Chevrolet Spark is Plan B for GM India who days ago unveiled the Chevrolet Beat with a ridiculously low price tag. The Chevrolet Beat is roped with a task to do more volumes than the 1,000cc Spark and challenge the might of the i10 and others.
Question - But what happens if the Beat doesn't click?
Answer - The 800cc Chevrolet Spark saves the day. Well hopefully.
P Balendran, vice-president of General Motors India -
The 800 cc Spark is on the drawing board
The low capacity version of this popular hatchback will not see production lines if its older siblings turn out to be market rattlers. GM is looking at certain number of cars for this year (around 100,000) and if it does not end up achieving it, the 800cc Spark will be out to boost numbers.
There are not many cars in India employing a sub-1000cc engine. The Nano, 800 and Alto come to mind. These are cars which are not fun to drive and serve the purpose of plainly transporting people from A to B.
Source - Financial Chronicle