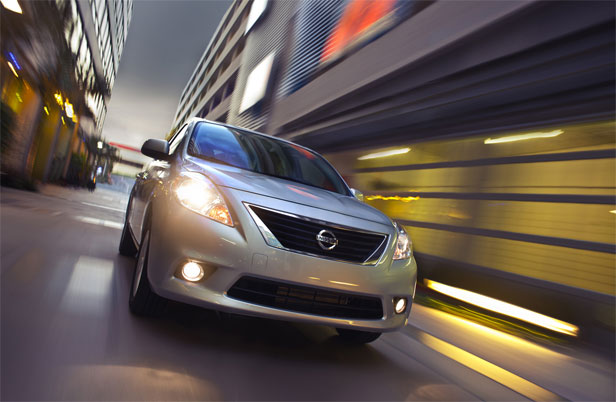 The 2012 Nissan Versa was driven on to the stage at the 2011 New York Auto Show with an an eye-popping price tag of $10,990. The car revealed in reality is not the next generation Versa which was showcased as the Tiida in Auto Shanghai simultaneously. The car Americans will buy instead is a sedan based on the Micra platform, which is also expected in India during the festive season under the name Almera.
India has to consider itself fortunate as the rear AC vent and Automatic climate control are expected in the Indian version, are absent on the US-spec model. In India, rear seat comfort is given top priority in a car costing just about 10 lakh rupees. American don't use the back seat as much as we do.
The Versa is the best selling car in its segment in North America (it outsells the Chevrolet Aveo and the Hyundai Verna), but here in India that won't necessarily hold good. Hyundai has taken up this segment in war footing planning as many as 10 variants for the new Verna, while Ford is going all out with the sporty Fiesta, the Figo' success serving as a launchpad. The VW Vento is setting the standard in this segment and is looking good to eclipse the City from the throne.
Nissan Versa (North America) Image Gallery