Nissan India launched two cars yesterday - the 2013 Nissan Micra which is a facelift and the low cost Nissan Micra Active.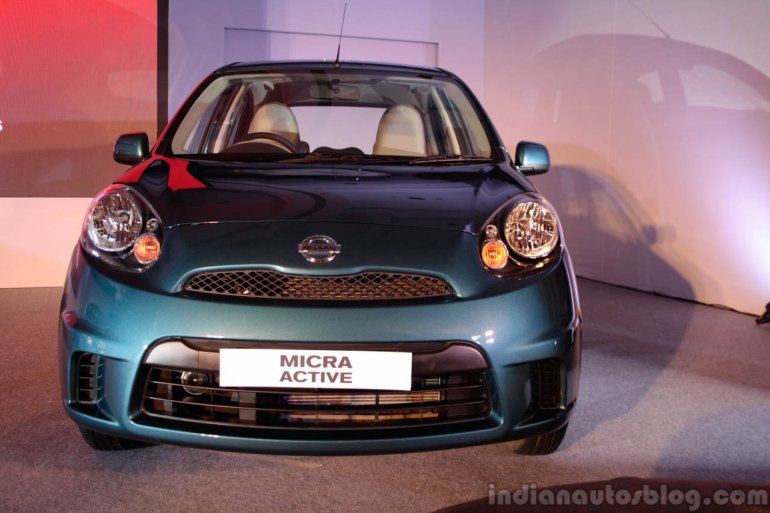 The Nissan Micra Active was rumored to be in the pipeline for a long time. Apart from being the first to bring you spyshots of the Micra Active, Indian Autos Blog also told you that Nissan would be planning to go down an entire segment with this low cost Micra. And one look at the price convinces us all.
Where the Micra Active starts from INR 3.5 lakhs, the 2013 Micra starts at INR 4.79 lakhs! That's an entire INR 1.29 lakhs more than the Active. This difference will further exaggerate when you compare the on-road prices of the car, given that the Micra Active will attract a lower insurance premium and lower road tax and registration.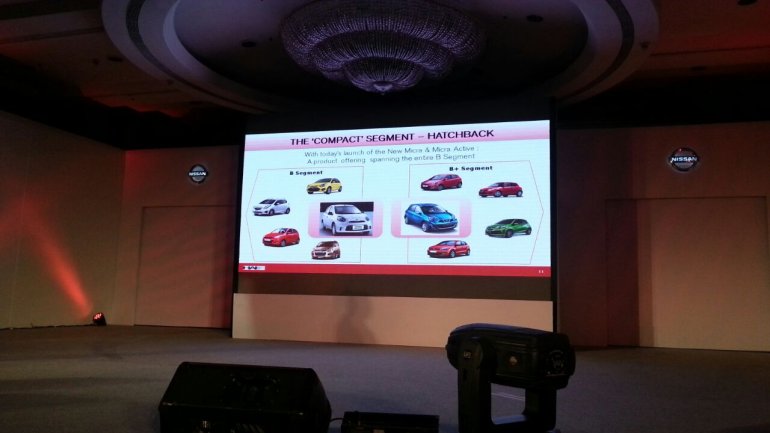 Mr. Nitish Tipnis, Director of Sales and Marketing for Hover Automotive India, said that with the previous Micra, Nissan was playing in between the B and B+ segment (According to the company, the B Segment is made up of the Hyundai i10, Chevy Beat, Ford Figo and Maruti Wagon R while the B+ segment consists of the Honda Brio, Maruti Swift, Hyundai i20 and VW Polo).
He said that Nissan India's 'game changing' strategy was with the introduction of the Micra Active alongside the 2013 Micra. Value seeking customers would definitely appreciate the Micra Active's base price.
To give you an example of what we mean, take a look at the prices below: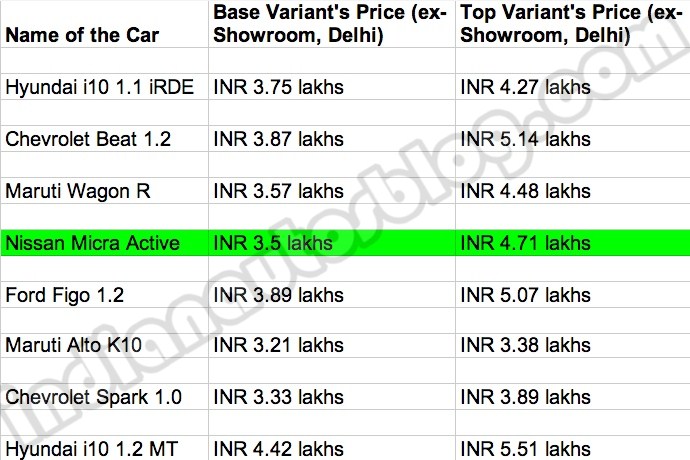 No doubt then that the Micra Active has been priced very aggressively. It even makes the A segment Spark look a bit over priced. The fact that the Micra Active is, all said and done, a Micra at the end of the day and the USPs such as the spacious cabin and the efficient 1.2-liter petrol remain unchanged, certainly works in its favor.
It is not all that badly equipped either. All variants feature power steering, tilt steering, AC, Engine immobilizer and body colored bumpers as standard. The XL variant gets front power windows while the XV gets it for the rear also, along with an audio system capable of CD, USB and Aux-in. The XL and the XV get remote keyless entry in addition.
The XV Safety variant which retails for 4.71 lakhs is loaded with dual airbags and ABS, EBD and Brake Assist.
You can view the brochure scans of the Micra Active right here.
Has Nissan India finally done it?
[All prices quoted in this article are ex-showroom, Mumbai]