The Leaf has worked a lot of wonders for Nissan in the past. From emerging as one of the pioneers along full electric cars to rising at the top of the game by being the highest selling electric car around the world, the Nissan Leaf has seen it all. Needless to say, the new generation Nissan Leaf is following the same path as its predecessor by being a stalwart of innovations.
The Nissan Leaf has added one more feather to its glorious cap, by introducing another pure innovation to the masses. Being one of the major sponsors of the ongoing ICC World Cup 2019, Nissan, as a part of campaign, utilized the opportunity of showcasing a brilliant talent of the Leaf to Indian masses. Nissan recently displayed the all electric Leaf to the people of Chennai at Express Avenue Mall, where the red coloured display model of the Nissan Leaf powered a one-of-a-kind screen which showed the India-Afghanistan ICC Cricket World Cup league match on it.
This is one of the nice innovations which had already made its debut in the previous generation model of Nissan Leaf. This technology of powering a television screen is a part of Leaf's "Vehicle to home" electricity supply system. As per this system, it allows a person to supply the energy stored in the battery of a Nissan Leaf to power various devices in your home.
How this technology works, you ask? Well, you need to install a PCS (Power Control System) and connect it to household's distribution board, while power is supplied from the lithium-ion battery of the car. All this process needs to be done while the distribution board is already connected to the DC quick charge port of the Nissan Leaf. The PCS also allows the owner of the Nissan Leaf to charge the battery of the car from the household power supply.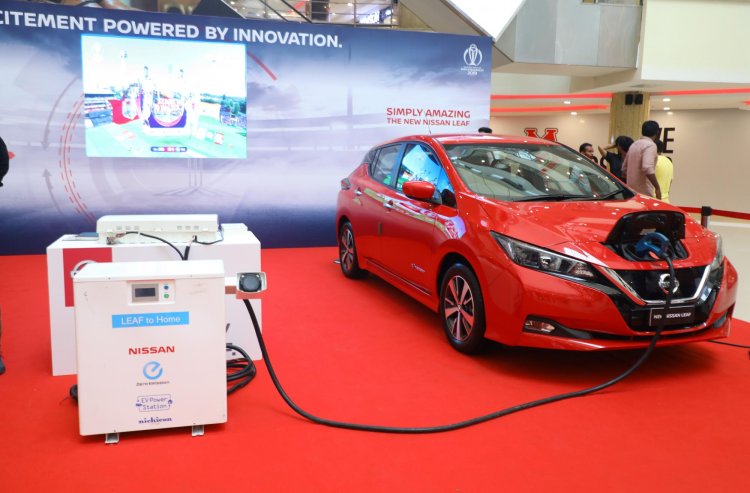 While there have been a lot of sightings of the Nissan Leaf in various cities of India in recent times, Nissan has still not disclosed the exact time frame of when this all-electric car will be launched in the country. For those who don't know, the Nissan Leaf is already the world's highest selling all-electric car. The EM57 electric motor under the hood of the Nissan Leaf is capable of producing 150PS of maximum power and 320Nm of peak torque motor. With a promising maximum range of 400km, the Leaf's motor is powered by a 40kWh Li-ion battery which takes 16 hours (with a 3kW charger) and 8 hours (using a 6kW charger) for being fully charged up.