Pointers from the press conference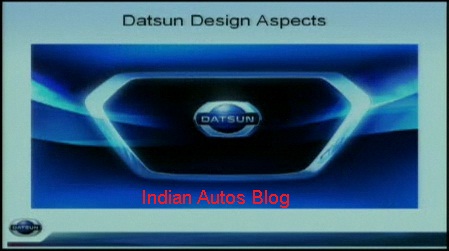 Target - 8% global share of the passenger car market in 2016 and 8% profitability
Fluctuation of currency, Thailand floods and Japanese earthquake affected production
Nissan Sunny - 185k units already sold in China, 15k units delivered in India since September 2011, Thailand, Mexico, Brazil - car has received many awards
284k units of the Nissan Sunny sold in high growth markets
Sales outlets in India now at 60 centers
Capacity ramped up from 2 lakh - 4 lakh units at Oragadam - Indonesia, Mexico, Brazil and China - production has been expanded.
We wanted to satisfy growth in high growth markets - Solution - it has now come to a stage where we can announce it.
Return of Datsun brand - Why
BRIC markets doubled volumes between 2006 to 2011. 60% will be the volumes contribution from BRIC countries; Economic growth will lead to motorization
Customers aspiring for new and specific products - Datsun will cater to this request.
Blue bar striking through the rising sun is the logo of the revived Datsun - energy coming from rising sun, blue bar reflects sincerity, oval shape stands for robust reliability and trust, Outer edge - modernity in the brand logo, the logo overall is a rising sun.
Hexagonal grille on the car will have the Datsun logo (shown above)
Up and coming customers in high growth markets - aspiring for a new car, first time car buyers - are going to be offered with Datsun
Datsun brand will promise reliability, durability and accessibility - with modern design - peace of mind that is affordable
Three pillars of Datsun - Engagement in driving experience, peace of mind and accessibility
Light weight cars - fuel efficient and handles well
What are the target market segment?
Core offer for Datsun will be under 4 lakh rupees - First two products will be manufactured at the Oragadam plant in Chennai
India, Russia and Indonesia are the three main markets, and the markets to start with
Local engineering, high parts localization will lead to launch of two Datsun models within one year starting from 2014. 1/3 to half of Nissan sales in India and Indonesia and Russia will be from Datsun.
Renault Nissan alliance CEO Carlos Ghosn says - Datsun brand - Addressing consumers who are buying used cars, or riding motorcycles, or buying a car with antiquated technology or platform -  Affordable but modern products
Launch of the Datsun is also part of the Green Car Program, which could make up 40% of the Indonesian market