The next generation (sixth) Chevrolet Camaro, which is due for 2015, is said to feature a 4 cylinder turbocharged engine so as to meet the CAFE (Corporate Average Fuel Economy) standards in the US.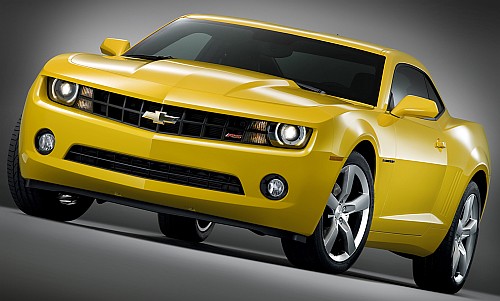 Ford has similar plans too for its Mustang. Ever thought of a muscle car with a 4 cylinder unit? When supercars themselves get downsized engines, just think of our micro hatches - they may boast a 2-cylinder or even 1-cylinder unit in future, but with decent performance of course.
While combining great looks, performance and advanced technology, the Chevy Camaro honors its heritage and delivers customer satisfaction as a 'muscle car' for the 21st century. It accounted for 42 percent of the US rear-drive performance coupe market in 2011.
Needless to say, the Chevy pony car has been winning like Charlie Sheen! And it's time for the present 5th-gen Camaro to enter make-up and tune-up rooms.
While it is official that the next gen model is due for 2015, the Chevy engineers would make use of the time in hand to develop the car to meet the requirements of the future market. The next gen Camaro will be built on on the company's new Alpha platform which is both smaller and lighter than the current car's Zeta platform.
It is notable that the platform is shared with few Cadillac cars as well. One can also expect the new Camaro to be more aerodynamically efficient and even more fun to drive.
The most significant transformation would be the use of the 4 cylinder turbo charged petrol mill. The engine could be the one used in Cadillac XTS, and in that application, the two-litre unit makes around 280 hp. However GM never admits to drop the larger V6 and V8 units.
The V6 engine may get a turbo charger and there is also a possibility for a small block V8. The new Camaro will be a rear-wheel drive as earlier, as the company believes that that is crucial for the car's performance.
[Note: This article is written by our intern Mr. Dhiyanesh Ravichandran]
[Source: Inautonews.com]