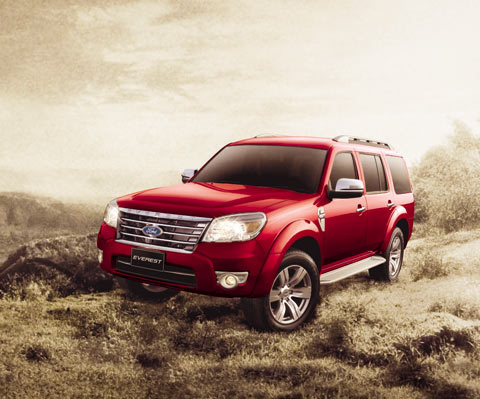 New Ford Endeavour - Power Train
With the best torque in its class, the new Endeavour provides the power and glory of state-of-the art diesel technology. That's the confidence, premium refinement and outstanding fuel economy of Ford's advanced DuraTorq TDCi common-rail turbodiesel engine family.
* The New Endeavour is powered by two highly responsive, 16-valve TDCi versions, both of which feature outstanding torque output plus impressive levels of smoothness and refinement:
o The 2.5-liter DuraTorq TDCi common-rail engine, rated at 105 kW( 143PS), which delivers peak torque of 330 Nm @ 1800 rpm
o The 3.0-liter TDCi peaks at 380 Nm of torque at 2500 rpm, and is rated at 115 kW( 156PS) of power output
* The DuraTorq TDCi common-rail engines also have a reputation for excellent fuel economy:
o Equipped with the 2.5-litre TDCi and Manual Transmission, the New Endeavour achieves fuel economy of 13.44 Kilometers per Litre of Diesel and an effective full tank range of 954 kilometers
o The new Endeavour is also equipped with the 3.0-liter Automatic Transmission variant that provides outstanding fuel economy at 11.14 kilometers per Litre of Diesel and offers a range of 791 kilometers on a full tank of fuel
* With TDCi, new Endeavour responds enthusiastically when the light turns green or when the moment is right to overtake.
* Unlike traditional diesels, common-rail systems generate very high fuel system pressures, up to 1,600 bar – and use finely controlled direct injection to deliver precisely metered amounts of diesel fuel to the cylinders. This approach optimizes diesel combustion, ensuring very impressive performance and eliminating the effect of 'turbo lag.' The TDCi engines use variable-geometry turbochargers to tailor engine boost levels
* DuraTorq common rail technology also contribute to a much more refined, quiet operation and reduced emissions output. Pilot injections, ultra-small doses of fuel prior to a main injection, help smooth the combustion cycle, making it cleaner burning and far less noisy than the diesels of old generations