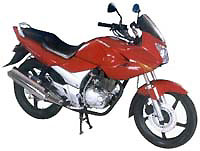 Back in the year 2003 Hero Honda launched its first sports bike called "Karizma" which was among the few bikes to have an engine that surpassed the 200cc mark. This bike became the benchmark and a trend setter for the motorcycle industry which led to other manufacturers like Bajaj to introduce high capacity bikes like the Pulsar 220.
The Karizma gave the Indian bike enthusiasts the feel of a sports bike which was awaited for a long time. Karizma is a well balanced combination of power, style and performance, which is still missing from other sports bikes in India.
Although being in the market for so many years, there weren't any upgrades for the bike. Hero Honda gave it a cosmetic makeover and launched Hero Honda Karizma R (Racing edition) recently. This version had carried over the same technical specifications from its predecessor, which was a big disappointment for its fans as they expected some power and torque improvement on the bike.
The Hero Honda Karizma has been fighting a tough competition. Bikes like Bajajs's Pulsar 220 and Yamaha's top end YZF-R15 until now, have not finished the Zma. However, waiting for a complete knock out before bringing in an upgrade isn't going to work and Hero Honda has realized that.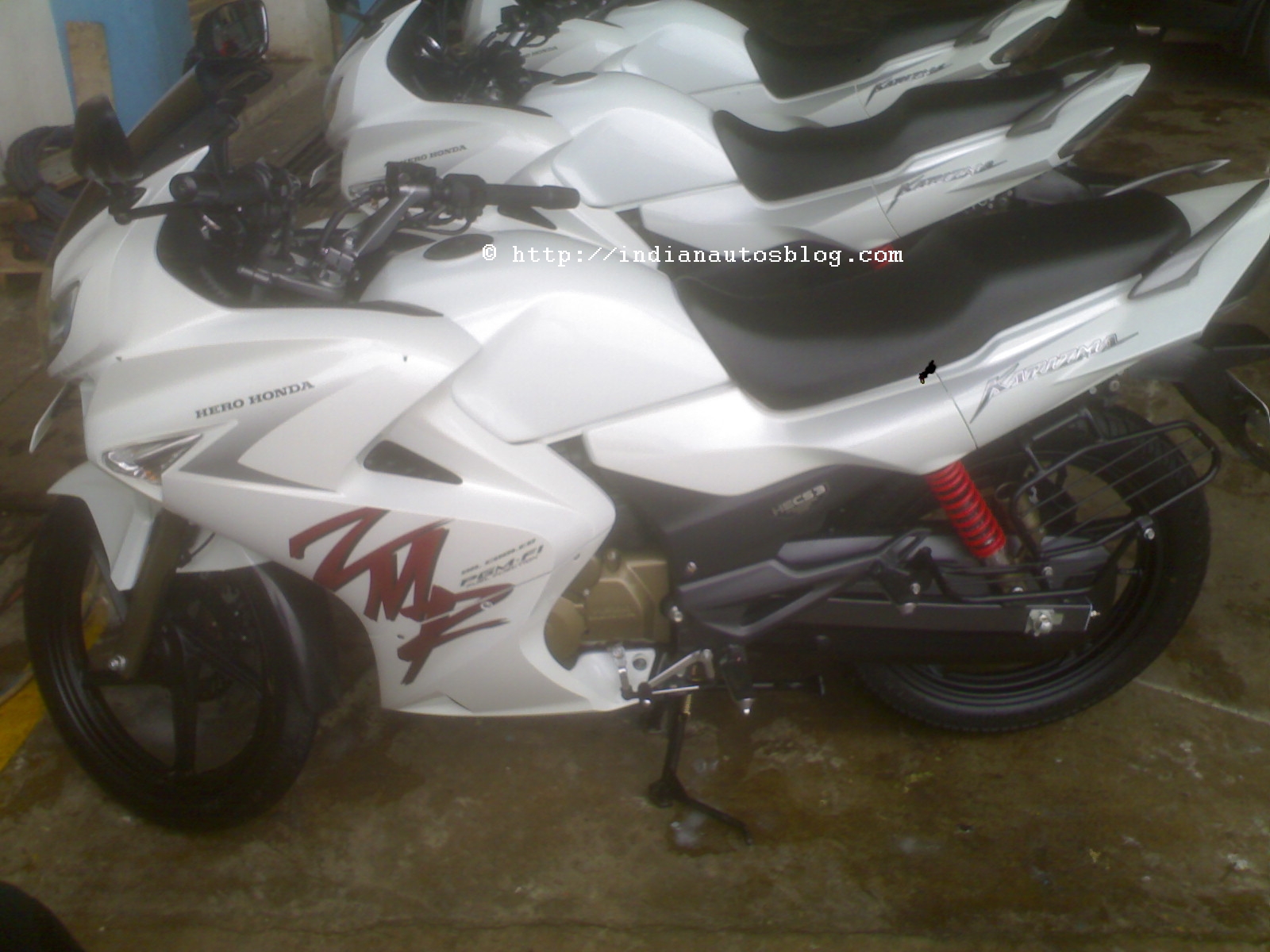 Now there is news surfacing on the internet about the new Karizma called Karizma PGM-FI. There are few spy pics of this new version Karizma available on every second website on the internet and mind you all of them are the same set of images!
There are lots of speculations and rumors going around for the Karizma PGM-FI regarding the features, specifications and price along with its launch date. As the name suggests, this bike would be equipped with Programmable Fuel Injection which would be a big boost to this bike's fuel efficiency, which has been a big concern with this bike's performance.
The engine would continue to be the same 223 cc but should be capable of generating 19ps of power (I have even read that it might be 21 ps) and much improved torque. A rear disc brake would also be present, enhancing braking capabilities. The bike would have a 5-speed gearbox but I would want to see a 6-speed similar to YZF-R15 and Suzuki GS150R.
A 6-speed gear box would mean less stress to the engine and would enable the bike to achieve a higher top speed and mileage figures. To improve handling and stability of the bike I would expect this bike to have mono-cross suspension, but I don't think this would be present in the new version after seeing the pics.
The bike is coming with a full fairing which is a boost to the sporty looks of the bike with the rear view mirrors fitted on it similar to R15. I'm worried that Hero Honda, in order to enhance the sportiness of the bike does not over-do the looks of the bike. For example, this bike is coming with a full front fairing, I hope the fairing is in a proportionate manner with the rest of the dimensions of the bike and it does not make it look like a cheap piece of plastic pasted on its head.
So far, the Karizma has been a well balanced bike in terms of the dimensions, and I hope that this extra fairing does not spoil the show. Coming to the seating position of the bike, I would like this bike to have much sportier seating posture this time. Since the bike is expected to be much faster than before, a more lean-forward posture would enhance the aerodynamics of the bike while riding. But this needs to be done very carefully so that it does not cause any ache in the rider's back.
Rest of the new features like clip on handle bars, split grab rails new headlamp and LED tail light along with the new graphics are some of the great add-ons to this version. But all this would not come at a low cost. With all those features the bike is expected to cost around 1 lakh rupees and until the bike is finally out we can't state if this cost is justified or not. Since this would be the first proper upgrade (in terms of technical specs) in so many years, a lot is anticipated from it in terms of both technology and performance. So let's wait and see when this bike is launched and what wonders it does to our biking world!