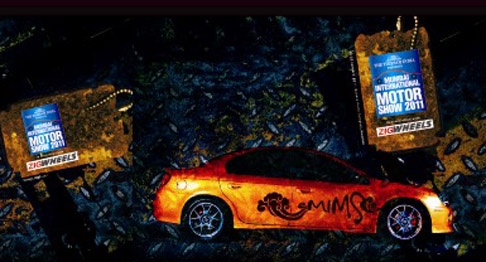 The Mumbai Auto enthusiast scene has come a long way over the years. Earlier there used to be just one Autoshow – Autocar Performance Show where auto enthusiast would make a beeline at the MMRDA grounds. These days there are so many annual events such as SpeedRun, Parx Supercar Parade, Vintage Car Rallies and now the Mumbai International Motorshow (MIMS)
Earlier called as the Times of India Mumbai Motorshow, this year it is currently being held at the MMRDA grounds at Bandra Kurla Complex between Jan 20-23rd Jan. Where the APS is powered by Autocar India, this show is sponsored by a rival magazine – Zigwheels.
At the start of the show there is a Dirt track with some riders showing of their skills. Of course, if there is a dirt track you will find a few Mahindra SUVs around as well. Inside, don't expect flashy Supercars. At best you would find a Nissan 370Z trying to lure the audience towards the Nissan Stall.
But do expect some vintage cars and bikes at the end of the expo being displayed in all their glory. Although, a little bit of polishing before the display would have been fantastic.
There are a lot of Indian Manufactures who have bought important cars from the portfolio at the display. The prospective customers can have a detailed look at the cars.
There is a small display by Piaggio as well displaying the latest Aprilia RSV4 and the Vespa. The new Vespa does look mind-blowingly chic!
Mumbai International Motorshow - Our suggestion
Somehow one gets the feeling that MIMS is trying to catch up with the APS. I think, in future, Zigwheels should focus only on Indian manufacturers. Make it a place where prospective customers can view ALL the 'On Sale' products from different manufacturers and make a wise decision for themselves.
This will save a lot of effort on part the customer as he/she doesn't have run from showroom to showroom finding the best deal. We hardly have any Multi branded Showrooms in India, this would at least give a small push. Then one can have more than one MIMS in a year  :)
Not from Mumbai? Don't fret; we have covered the entire show for you. Have a look at the gallery
Mumbai International Motorshow 2011