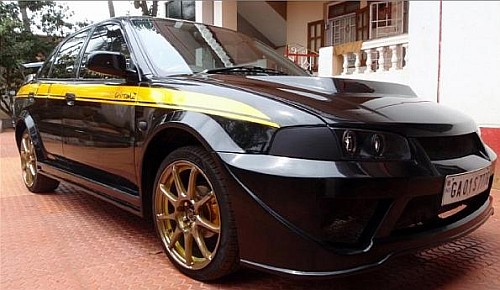 Even after the Mitusbishi Lancer has almost gone off the shelves of the showrooms, one particular Lancer simply wouldn't go off its owner's heart. That is why he has gone to great extents to painstakingly modify his ride into the mean machine you can see in the picture above.
Modifying a car requires immense dedication and attention to detail. And of course a very deep pocket. The car has been given a major revamp to make this seventh generation mundane Lancer challenge the soon to be launched Lancer Evo X?
This featured Lancer has been completely modded under the hood, over the hood, inside, outside and pretty much every side that the car has. The result is a terrific machine which looks more like the iconic Godzilla (last gen Nissan GT-R) than a  showy modded Lancer.
The car's engine has been given new manifolds, headers, and a K & N Performance air-filter to boost performance. The exteriors of the car have been done up very well with sporty bumper up front and back and a very glossy black paint job. The yellow strip which runs on the side exudes some understated sportiness without being brash.
The CCFL (Cold cathode fluorescent lamp) headlamps look really stunning and LED tail lamps adorn the rear. The car runs on massive 17" wheels sporting Yokohama S-Drive 205/45R17 low-profile rubber.
The car's interiors has been tastefully done and the starter button on the gear knob is a nice touch.
The car has been fitted with an earth-shattering entertainment system with a Pioneer 4150 DVD system delivering pounding music through Ground Zero 6.5" speakers at front, Earthquake 6x9" speaker at the rear, two amplifiers and two Ground Zero sub-woofers. There is also a Sony Playstation2 installed in the car.
The party trick (literally) in this car is a LCD screen in the boot which can be seen when the boot is open. The car also sports underbody LED serial lights (a la 'The Fast and the Furious').
Seems like the modifications itself could have cost as much as brand new Lancer.
Gallery -
Source: Goaonwheels