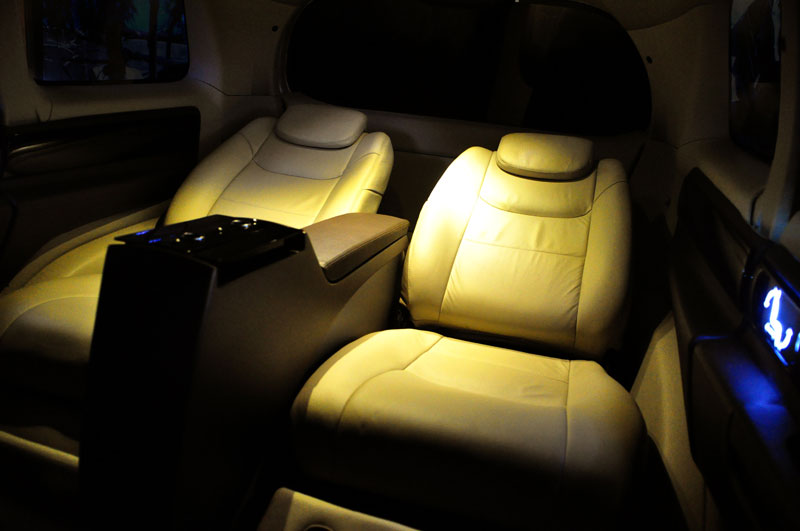 Don't you just envy the guy who sits in the 1st class seat of the Boeing or who switches on the massages function on the rear seats of the 7 series? Well, now you could go ahead and pamper yourself in a similar manner for a fraction of that cost.
MKraft, a Mumbai based company is offering some uber luxurious customizations on the Toyota Innova.
The company's focus is on luxury & more importantly space. Their concept of 'STRETCHBACK' is rather interesting. Of course in the literal meaning they want to suggest the idea of relaxing & enjoying the drive but more importantly the play of colors, textures & lighting in side the car cabin just make it feel so much more spacious.
The car's cabin is no less luxurious than a private jet. It features a LCD television hooked onto the partition between the driver and the rear passenger . The car also has a dish fitted on the roof so that you can enjoy TV on the move. You get a kusic system that is connected to the TV. A DVD player to watch movies, & guess what you can even hook up your XBOX or Play Station to the TV & convert the cabin into a gaming zone.
The car also features a refrigerator, cabinets to keep your items, roof mounted reading lights & side throwing ambient lights for the readers. It comes with two fully automatic supremely comfortable seats separated by a centre armrest which houses all the controls for the gizmos on board.
Even the exterior gets a body kit making the car more sporty. The driver gets his own music system & reverse cameras.
So whether it be your home theater system, or your reading lounge, or a place to watch the news, play games or just sit back & daydream, this is it.
At a price of 4.5 lakhs and a donor car, you can spoil yourself with all the luxuries you ever wanted.
Toyota Innova MKraft
Source - Car Wale