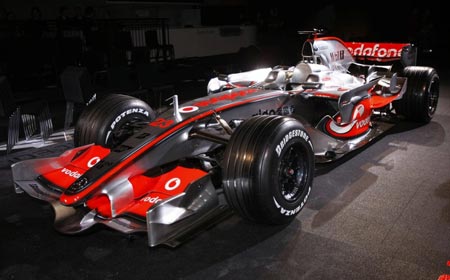 Lewis' assault on the 2009 F1 World Championship will depend on how good the MP4-24 will be. McLaren will reveal their 2009 car at their UK factory midway through next month. The MP4-24 - the machine in which Lewis Hamilton will defend his Formula One drivers' title - will be unveiled at the McLaren Technology Centre in Woking on January 16.
The team have already tested several elements of the new machine, which will embody 2009's radical rule changes, including slick tyres, reduced aerodynamics and a Kinetic Energy Recovery System (KERS). The re-introduction of Slicks will make F1 even hardcore.
At forthcoming test sessions later this month - at Jerez in Spain and the new Algarve Motor Park in Portugal - McLaren plan to run a 2009-style front wing and other developmental parts, before the wraps come off the MP4-24 just over two weeks into the New Year.
McLaren are the third team to confirm a launch date for their 2009 car. Toyota will reveal the TF109 on January 15 with no traditional ceremony, while BMW Sauber's F1.09 will step out in Valencia testing in Spain on January 2009.
IAB
Source : F1