Both models made their local debut at the Auto Shanghai 2015.
Along with the 540C, McLaren is also showcasing the more powerful 570S and 675 LT. Both have made their global debuts at the this year's New York Auto Show and Geneva Motor Show, respectively.
McLaren 570S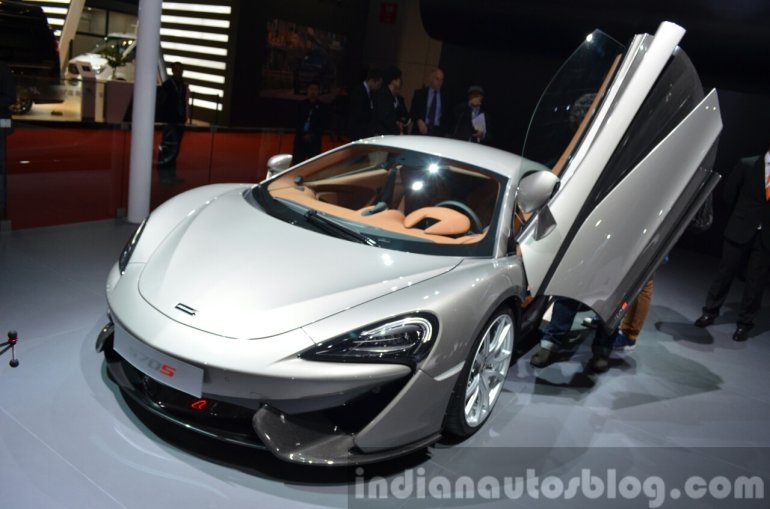 The McLaren 570S is the most powerful offering in the entry level Sports Series, which also includes the 540C. The idea behind the Sport Series is to introduce a wider audience to the thrills of owning a McLaren without them spending a fortune.
The 570S features a new design that borrows design cues from the McLaren P1 hypercar whilst sporting a few exclusive design touches. For starters, the front end has a sculpted bonnet that sits between a pair of large LED headlamps. The lower fascia is characterized by large intakes that channel air to critical components and towards the side profile, where it flows into the side intake.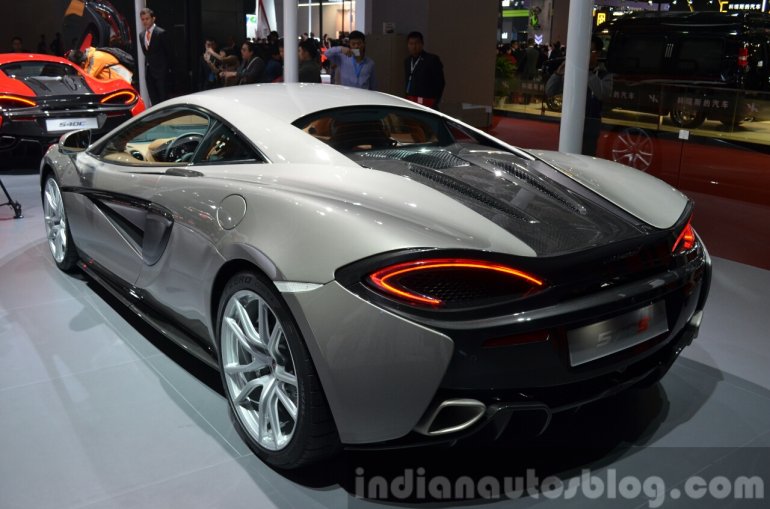 There are flying buttresses on either side that channel air into the engine for efficient cooling. The rear end sports a pair of LED P1-esque taillamps, a rear diffuser between two trapezoidal exhaust outlets.
Despite lower costs, the McLaren 570S features some of the bells and whistles from its bigger brothers. The interior is designed around McLaren's MonoCell II, a carbon fiber tub that helps keep the overall weight less while improving structural rigidity. It is claimed to be 115 kg lighter than the nearest competitor.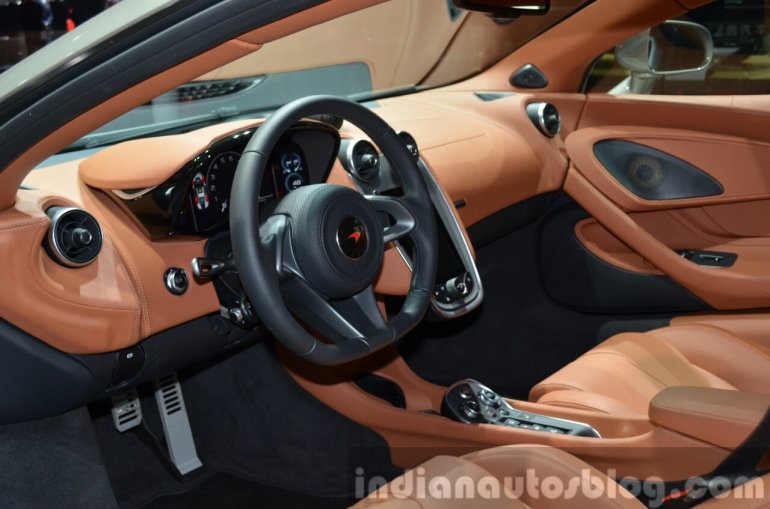 Power is sourced from a 3.8-litre twin-turbocharged V8 (M838TE) that produces 570 PS and 600 Nm. It is paired to a 7-speed SSG gearbox, which enables it to do 0-100 km/h in 3.2 seconds, 0-200 km/h in 9.5 seconds, and onto a top speed of 328 km/h.
McLaren 570S at the Auto Shanghai 2015 - Image Gallery
McLaren 675 LT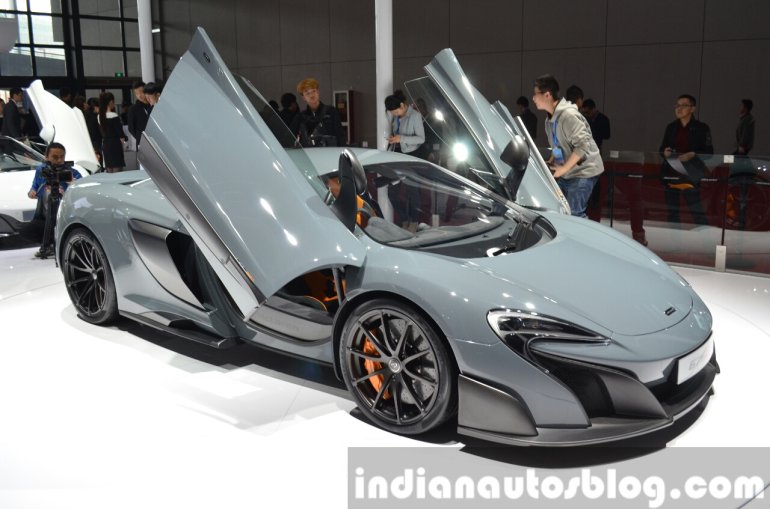 The sold-out McLaren 675 LT made its local debut at the Auto Shanghai 2015. It is basically a track-focused version of the 650S that targets latest supercars like the Ferrari 488 GTB.
The exterior design is nearly identical to the 650S, save for vital upgrades such as an extended carbon fiber front splitter with end plates, wider door blades with an extra vent placed above for additional cooling, wide side intakes, a new engine cover, and an aggressive rear-end with dual rounded titanium exhaust pipes.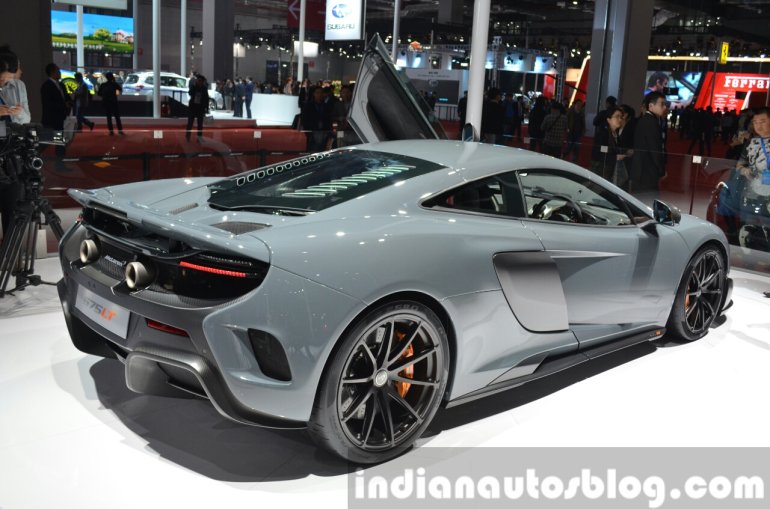 With a dry weight of 1,230 kg, the 675 LT is nearly 100 kg lighter than the 650S. It will only be available in coupe bodystyle.
Interior wise, the 675LT features track-focused upgrades over the 650S. There are a larger set of steering paddles and new Alcantara-upholstered carbon fiber seats, similar to the ones in the P1 hypercar.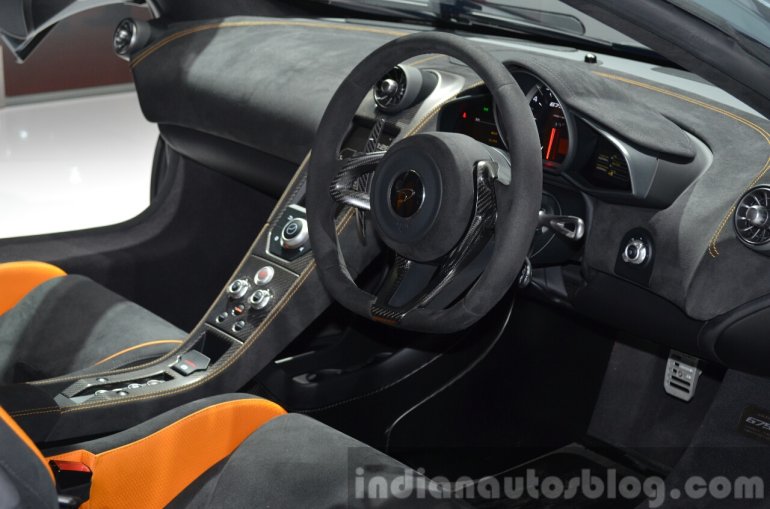 Powering the 675 LT is a re-tuned version of the 3.8-liter twin turbo V8 engine, which produces 666 hp and 700 Nm of torque. Aided by the lightweight body, the 675LT has an impressive power-to-weight ratio of 542 hp per tonne.
The engine is paired to a 7-speed dual clutch SSG transmission, which helps the 675LT  sprint from 0-100km/h in a blistering 2.9 seconds, 0-200 km/h in 7.9 seconds, before hitting a top speed of 330km/h.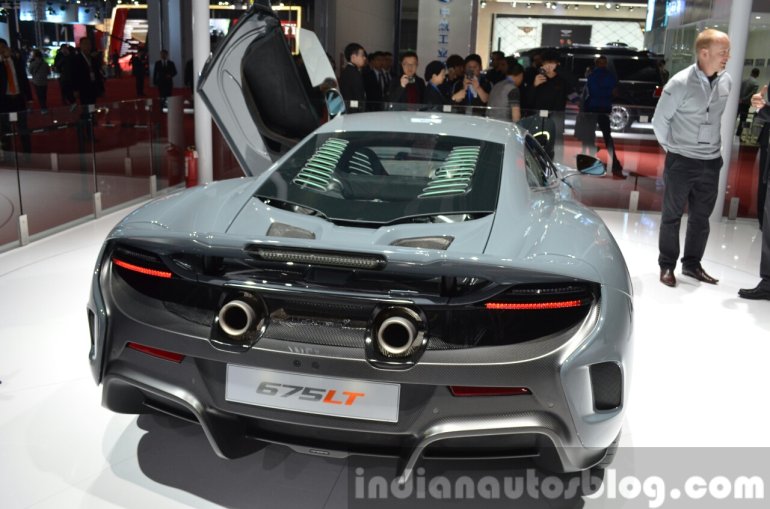 The McLaren 675 LT is priced from £259,500 (INR 2.47 crores), and its production is strictly limited to 500 units globally. Given that McLaren has sizable market share in China, expect a good number of 675 LT examples to be allotted to the Chinese dealers.
McLaren 675 LT at the Auto Shanghai 2015 - Image Gallery