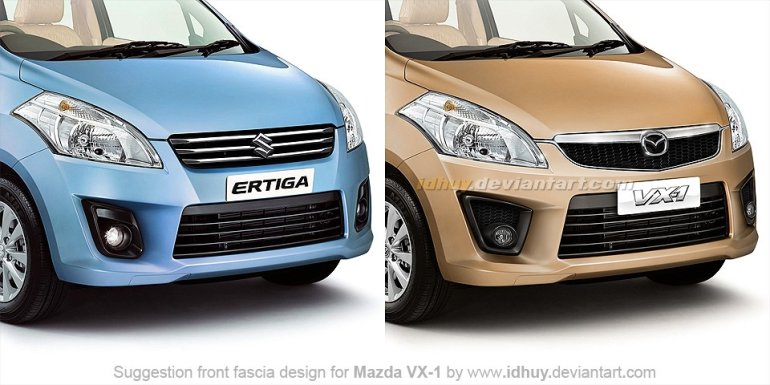 The Mazda VX-1, the rebadged Suzuki Ertiga, is all set to enter the highly competitive Indonesian MPV market.
The Suzuki Ertiga and the Mazda VX-1 look to do what the Toyota Avanza and its rebadged cousin, the Daihatsu Xenia have managed to do in Indonesia. The Avanza has been the best selling car in the country since a long time and most of the remaining customers are covered by the Xenia.
Indonesian auto website Otomotif.kompas.com reports that according to their sources, the Mazda VX-1 would be launched in the month of May though the exact date remains unknown.
Mazda hasn't had a compact MPV to offer the Indonesia and hence has decided to borrow the Ertiga from Suzuki. The Mazda VX-1 would be assembled at Suzuki's Indonesian plant alongside the Ertiga. It is to be noted that the CKD kits of the MPV are shipped from India by Maruti.
Except for the change of grill and the logo, Mazda hasn't touched a thing. The VX-1 is an exact replica of the Ertiga inside out. Though Mazda is keeping silent, we strongly expect that the commonness would continue even under the skin.
The MPV would then have to be powered by the Ertiga's 1.4 litre K-Series petrol engine mated to a 5-speed manual or 4-speed automatic gearbox. The Indian Ertiga is not available with the automatic transmission yet.
The rebadging exercise is expected to be a win-win proposition for both Suzuki and Mazda.
[Image: Indian Autos Blog reader Idhuy from Indonesia; News source: Otomotif.kompas.com]