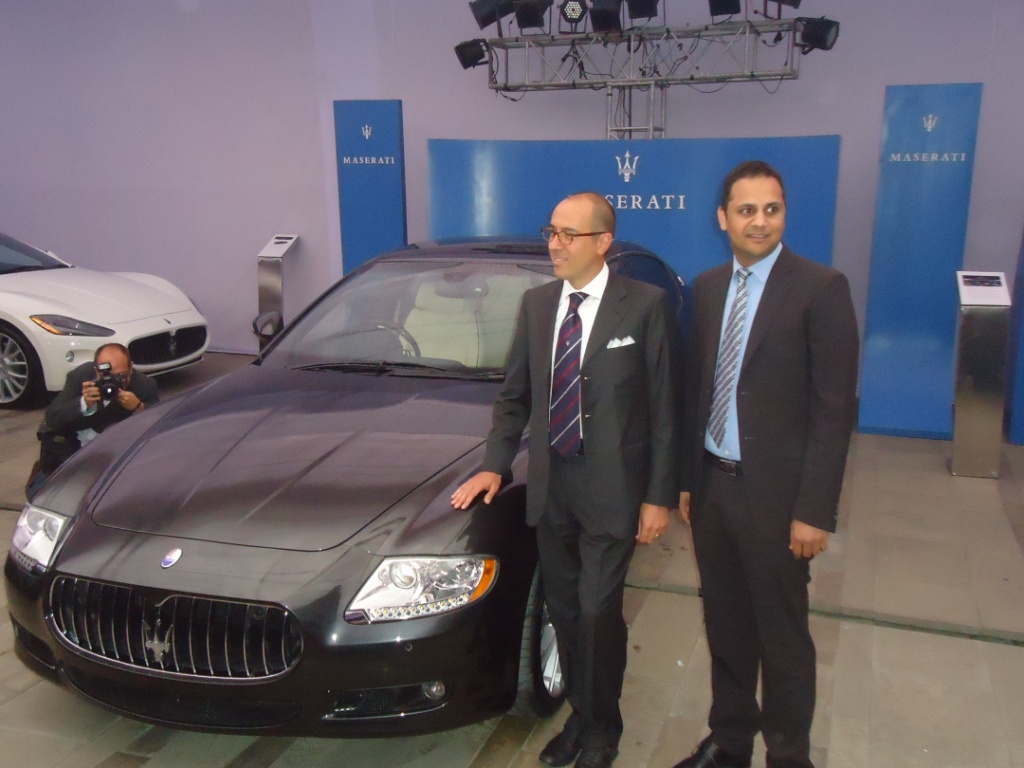 Simone Niccolai, Managing Director Asia Pacific and Ashish Chordia, MD Shreyans Group (Maserati' official distributor in India) pose for a picture with the 4-door Maserati at the event held in Delhi this afternoon.
IAB representative Ujwaldeep Singh attended the launch of Maserati brand in India this morning and was shocked to find out that the entire lineup was made available to Indian buyers. Bookings were formally opened today, but deliveries will begin only by July.
Here are pointers from today's press conference -
# In 2014 Maserati will complete its successful 100 years
# Selling cars in 62 countries + India = 63 countries now, worldwide
# 1st dealership in India will be in Mumbai, 2nd will come up in New Delhi in early 2012
# Seek to open up 7 functional dealerships in India by 2015
# 5,776 cars were delivered across the world in 2010. 18% growth from past year
# US is the largest market for Maserati. China No.4 and largest in Asia (54% growth compared to past year)
# Bookings for the entire lineup now open.
# Deliveries shall start by July-Aug this year
# Prices subject to the contents that customer will be willing to put in the car
# Project on building up a SUV is in process. Timeline was not divulged.
Maserati prices in India (in rupees, ex-showroom Delhi)
GranTurismo 4.2 AT - 1,20,29,000
GranTurismo S 4.7 AT - 1,29,81,000
GranTurismo S 4.7 - 1,37,13,000
Granturismo FL 4.2 - 1,23,22,000
Quattroporte S FL 4.7 - 1,32,74,000
Quattroporte Sport GTS 4.7 - 1,42,99,000
GranCabrio 4.7 - 1,42,99,000
Maserati in India Image Gallery