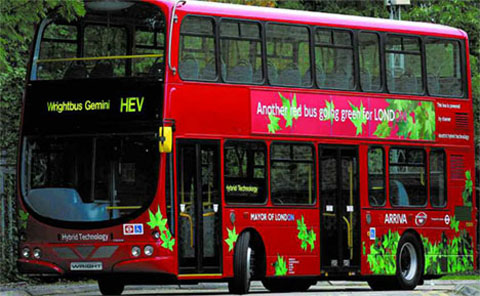 When was the last time you thought that public transportation in India needed to be cleaner? Well, we at IAB always wanted that, esp with these improperly-maintained public buses pumping out tonnes of black smoke every day. Mumbai and Delhi, we feel are several times better as they run on CNG which is cleaner.
There are a lot of relations between London and its colonies, India for instance. We share several similarities and maybe this new concept will catch on with Indians as well. Think of London and you get memories of the Big Ben, London Bridge, the London eye, the Buckingham palace etc.. If you are an auto enthusiast, then probably, the popular London Taxi and the double-decker bus catches your eye.
Well, now these buses are going hybrid. How cool is that? By January, 56 of them are expected to go hybrid with 300 going into service by 2011. The buses are Transport for London's latest green initiative in the UK, hoping to meet the nation's emissions standards for public transportation well before the 2012 deadline.
What's more, these buses are quieter and upto 40% less polluting than their oil-burning counterparts.The buses will be designated as hybrids by their colorful green-leaf motive painted around the lower portion of the chasis.
In addition to this development, Transport For London has also stated that by 2012, every new bus entering the fleet will be a hybrid. This means that their 8,000 total bus fleet will eventually be completely replaced. That is for London, but is it needed for India
Source : Zoomilife