Update 2 - Pictures of the Infiniti Q30 City Black Edition have been updated in a new gallery. It adds dual tone 18-inch wheels, dark grey front grille, satin silver door mirrors, and black lacquer treatments to the wheel arches, side sills and rear bumper. The interior is upholstered with Alcantara and purple stitching on the dashboard, armrests and partially on the seats. The edition can be bought in graphite, black and blue body colours, and in all three engine options.
Update 1 - A live image gallery has been added below the story.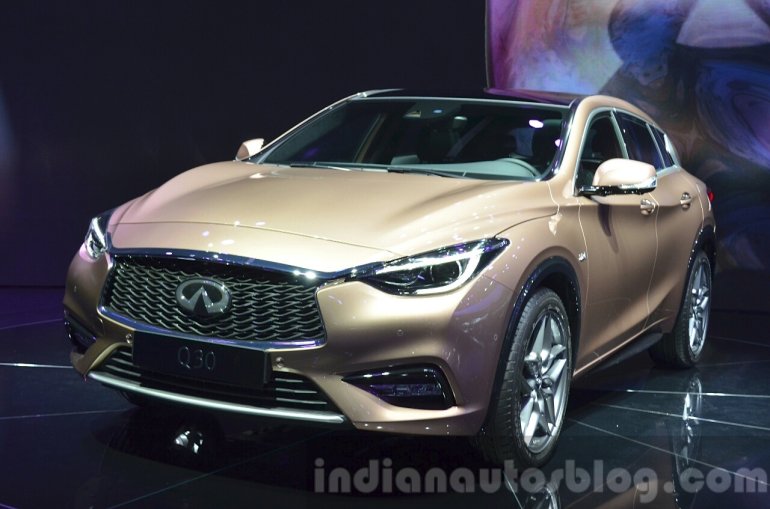 Infiniti has released details and photographs on the Q30 that will debut at the Frankfurt Motor Show tomorrow.
The Mercedes A-Class based hatchback will be built by Nissan in Sunderland, UK. It will launch in selected countries by the end of the year, and deliveries for the UK begin in January 2016.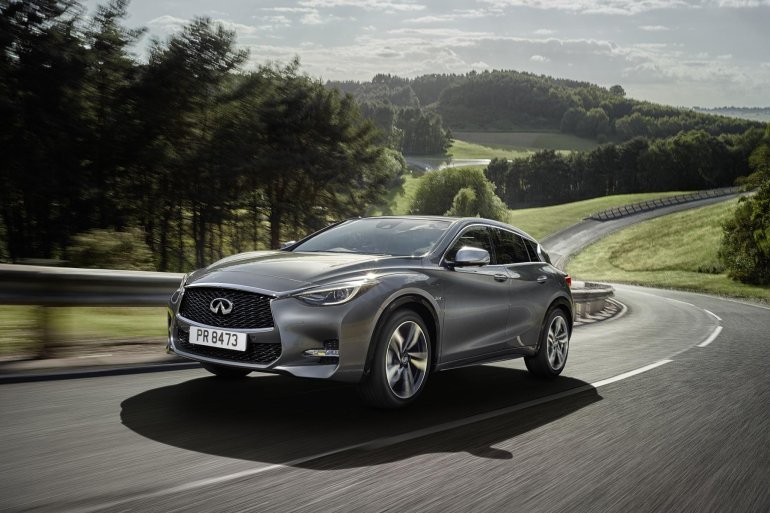 Targeted at Generations X and Y, the Q30 features Infiniti's signature design cues with the double-arch grille with 3D mesh, double-wave bonnet, a C-pillar that arcs forward, and low-slung roof-line.
The top-end variant comes with LED front fog lamps, body-coloured and heated door mirrors, 19-inch alloy wheels and chrome dual rectangular exhaust finishers.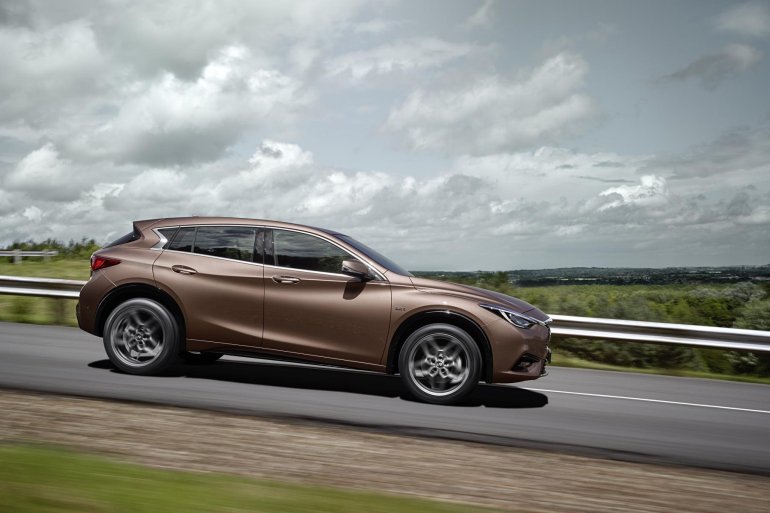 The Q30 is powered by a 1.6-litre petrol engine, with either 120 hp or 154 hp, and 1.5-litre and 2.2-litre diesel engines, with 107 hp or 168 hp output. Premium and Sport models get a 2.0-litre, petrol engine producing 211 PS. All are four-cylinder units and are paired to a seven-speed dual-clutch transmission or a six-speed manual transmission.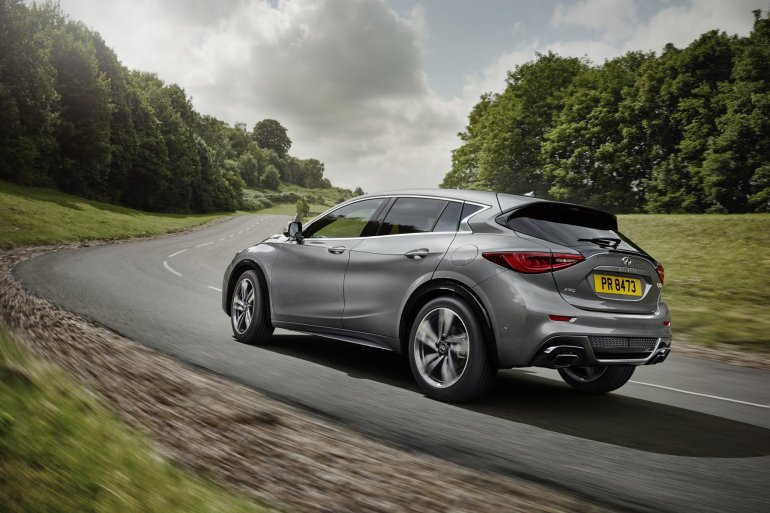 Features on the top spec Q30 include Automatic park assistance with Around View Monitor (AVM) and Moving Object Detection (MOD), Blind Spot Warning, Forward Collision Warning with Forward Emergency Braking, Auto High Beam Assist and Intelligent Cruise Control.
The cabin features Active Noise Cancellation, and offers custom-designed trims such as 'City Black' that blends black upholstery with purple stitching, 'Cafe Teak' that combines brown and black upholstery with black stitching, and 'Gallery White' that gives a high-contrast appearance featuring white leather with red accents.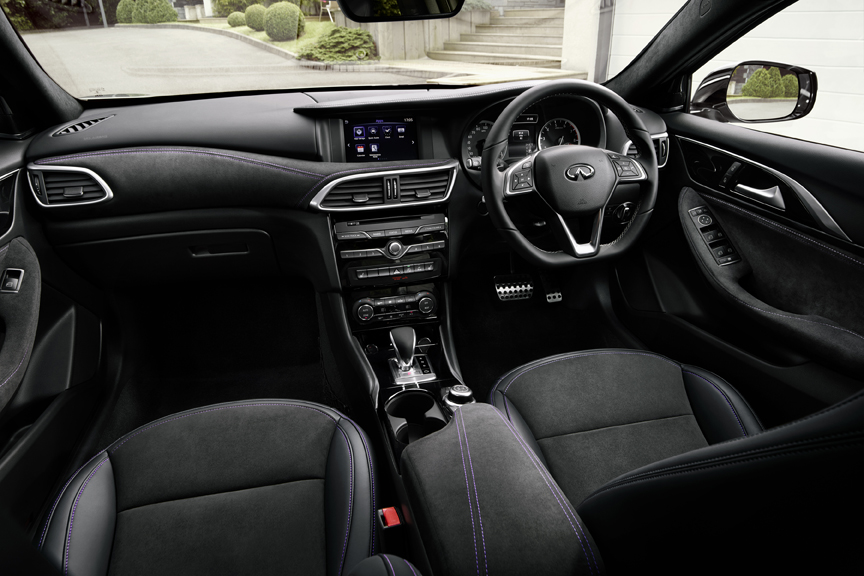 Infiniti says that it has applied 'Dinamica,' a soft Italian suede-like material that is increasingly used in the fashion industry, in parts of the cabin like the door trims and arm rest.
You can refer the table and press release below for more information.
Powertrains available on Q30 Premium and Q30 Sport

Engine
1.6-litre petrol
1.6-litre petrol
2.0-litre petrol
1.5-litre diesel
2.2-litre diesel
Displacement
1595 cc
1595 cc
1991 cc
1461 cc
2143 cc
Cylinders
4 cyl in-line
4 cyl in-line
4 cyl in-line
4 cyl in-line
4 cyl in-line
Valves
16V
16V
16V
8V
16v
Max power
90kW (122ps) @ 5000RPM
115kW (156ps) @ 5300RPM
155kW (211ps) @ 5500RPM
80kW (109ps) @ 4000RPM
125kW (170ps) @ 3400-4000RPM
Max torque
200Nm @ 1250-4000 RPM
250Nm @ 1250-4000 RPM
350Nm @ 1200-4000 RPM
260Nm @ 1750-2500 RPM
350Nm @ 1400-3400 RPM
Fuel system
DIG w/ CAMTRONIC
DIG w/ CAMTRONIC
DIG W/O CAMTRONIC
Common Rail Direct Injection
Direct injection
Transmissions
 7-Speed Dual-Clutch Automatic Transmission
 6-Speed Manual Transmission
Q30 Fuel economy and CO2 emissions *

Engine
1.5d MT 109ps

5Dr

1.5d MT 109ps

City Black 5Dr

1.6t MT 122ps

5Dr

1.6t MT 122ps

City Black 5Dr

2.2d DCT 170ps AWD City Black 5Dr
Fuel economy combined cycle (l/100km) from
 3.9
4.1
5.8
6.0
5.1
CO2 (g/km) from
103
108
134
139
133
* Based on results of manufacturer's own laboratory testing.
Dimensions on Q30 Premium and Q30 Sport

Q30 Premium
Q30 Sport
Overall length (mm)
4425
Overall width (mm)

(with door mirrors)

2083
Overall height (mm)

(unladen)

1495
1475
Wheelbase (mm)
2700
Head room (mm)

(without glassroof)

1st row
2nd row
1st row
2nd row
108
43
108
43
Leg room (mm)
1st row
2nd row
1st row
2nd row
626
538
626
538
Boot capacity (litres VDA)
368
Infiniti Q30 at the 2015 Frankfurt Motor Show - Image Gallery
Infiniti Q30 - Press Release
[Slideshare direct link]