Buying a car is very difficult. First you have to short list a few cars from the myriad choices available. Then you have to do some internet research to see which will fit in your budget to narrow the choices. Later, you have to take test drives to find if there is room for luggage and other occupants.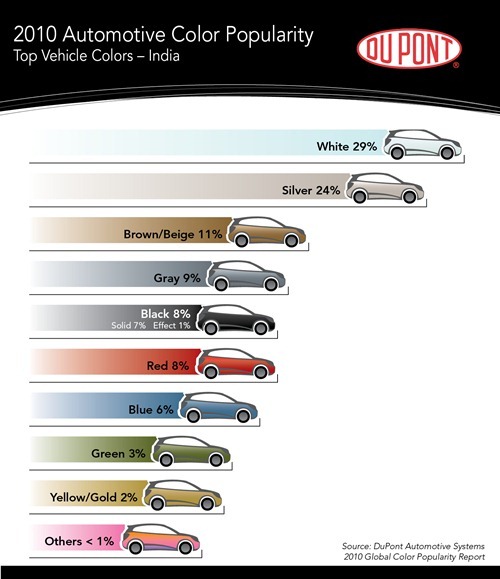 Once you have narrowed down on a single car, then you have to choose which variant has the best possible features for the best possible price. After all this malarkey, comes color choice. Should I opt for funky color or play it safe? Would I get better resale value if I get the most common color? Which color is readily available in the dealer's yard?
So many questions when it comes to color choice. Of course, even manufacturers know the importance of color hence they try to jazz it up in the most unfathomable terms – Coral Red, Squeeze Yellow, Pearl White et all.
So what is India's favorite color? If, like me, you think it is black then oh boy you are so wrong.
Turns out, India's favorite color of choice, according to Dupont Automotive Color Popularity Report, is 'White'. Over 53% of the cars in India are white followed by Silver (23%). Considering white is a heat reflective color and India is quite hot, it seems to be the sensible choice. Also, a lot of commercial fleets prefer their cars in white.
My favorite color 'Black' comes 5 in the rankings with only 8% of the cars painted black. Down the scale, less than 1% of the cars painted pink (for obvious reasons I guess).
Of course, Dupont also conducted a study for other countries. The final result was that countries with cooler climates tend to go with darker colors, while tropical and warm regions tend to prefer white color vehicles.
Which is your favorite color? Where does it come on the list?