Suhail is one of our regular readers from a long time and he's just purchased a new Fiesta hatchback in America. The new Fiesta is coming to India in the sedan form in June-July and we thought it'd be a good opportunity to get in some thoughts on the vehicle prior to it launch.
We are also expecting an announcement from Ford shortly on the fate of the hatch for our market.
Coming back to the report, it turns out Suhail is so much in love with his new Fiesta that he's done a head-to-tail analysis of the hatch. Even better, he's put in some images of the sedan and spoken about it in the later part of his text.
IAB wishes to thank Suhail for this valiant effort in bringing our Fiesta-loving Indian readers such a report and letting us know what's in store
Over to you Suhail.
I, Suhail Sood, a KIA man loves Korean cars for their unmatched performance, fuel economy, reliability and longevity. I own a 2004 Kia Optima LX V6 with somewhere around 72,000 miles. I bought this vehicle for only one reason – value for money.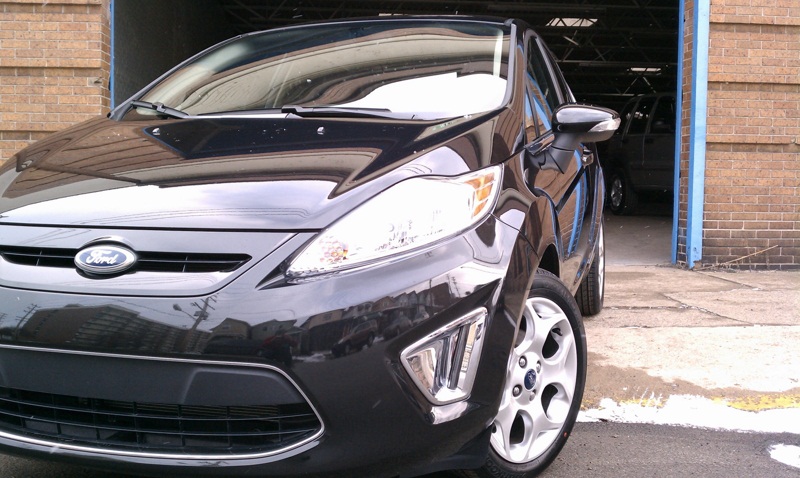 I am a pricey buyer and I like things inexpensive. I often commute in Pittsburgh and parking is a hassle in the city. I wanted something small on the side, I could have gone for another KIA but what's the fun?
Just when It struck my mind that Ford had also launched a small car although I wasn't sure what it was. I began my search and this little thing caught my eye.
9 AM on a Saturday morning I went to a dealership few blocks down the road and test drove these little things. When I say THESE I literally test drove every Fiesta - hatch to sedan, automatic to manual, base(S) to high-end (SES) version.
Finally I met my match. This black beauty was sold to someone who never bothered to pick it up and it had been sitting in their warehouse for 3 months. I made an offer, paid 16,000$ plus taxes, they were happy and I brought it home.
New Ford Fiesta Initial Impression
Pros –
Responsive 1.6L engine @ 120 bhp with smoother gear shift, shift light integrated in tachometer
Perfect vehicle for generation Y, individuals and small families
Optional 5 speed manual or 6 speed automatic
Blind spot mirrors, an added safety feature for switching lanes safely
Microsoft SYNC connectivity, accepts voice commands, sync phone and other Bluetooth devices
Top of the line SES features sunroof, keyless entry, engine start\stop button, leather and front heated seats, ambient lighting
7 airbags include front, side, curtain and knee
Front legroom and headroom
6 speaker sound system, 2 tweeters and 4 speakers, 1 on each door
Easiest vehicle to park in tight spaces
Cons –
Factory stereo
Doors lock\unlock button located below stereo controls
Rear headrests block a fair amount of rear visibility
Noisy, sounds like early Indicas
Decent amount of legroom and headroom in the back
Harsh ride on the SES
Vehicle locator or alarm is an optional package, does not come standard on any trim
Some pictures – Pardon the picture quality. Taken from phone under different lighting conditions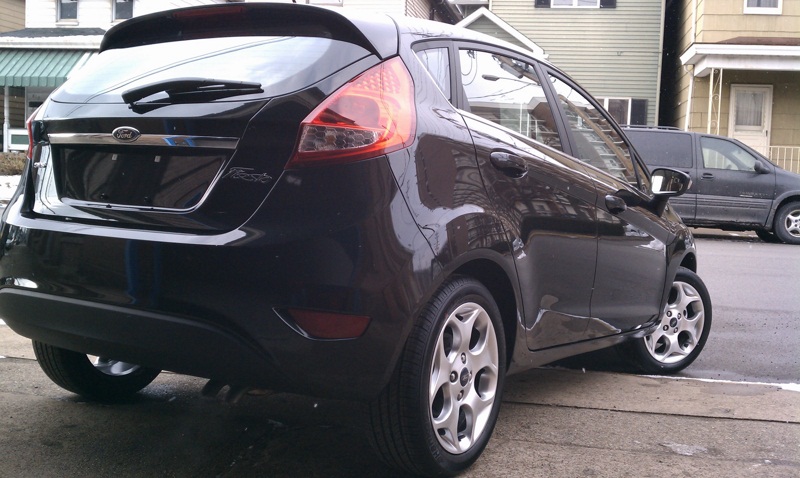 Front end – Indian version may get fog lights. This one has LEDs
Rear end – The prettiest vehicle on road, black and chrome combination goes well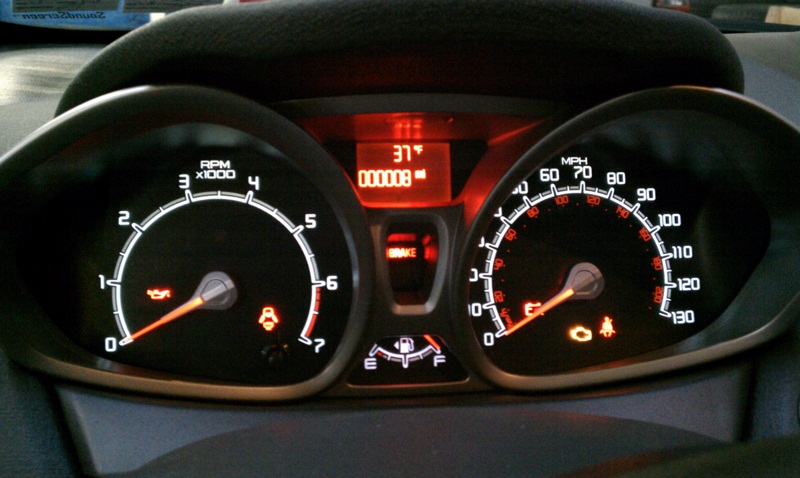 Interior - Well lit Instrument cluster, with MID console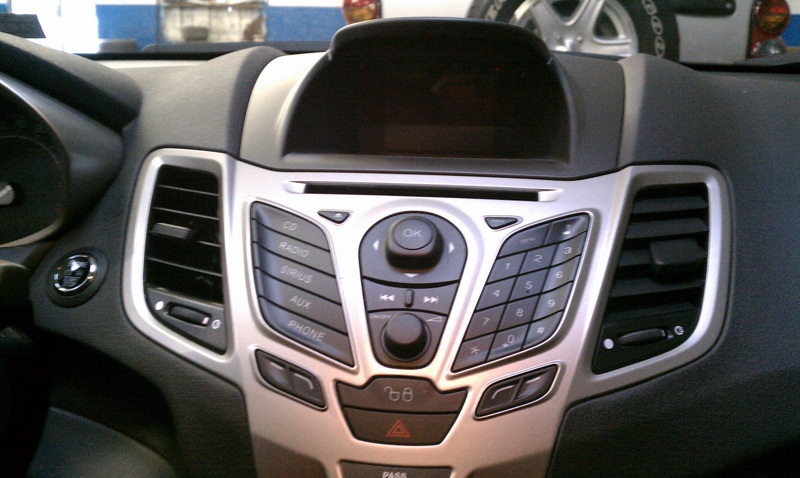 Audio controls, vehicle lock\unlock button (center)
Engine start\stop (left) – foot on the clutch and push to start (Manual transmission)
Vehicle in P (parking), foot on the brake pedal and push to start (Automatic transmission)
Factory stereo plays for an hour without the key in or key around, also gets equalizers plus basic bass, mid, treble settings
DSP modes – All or front seats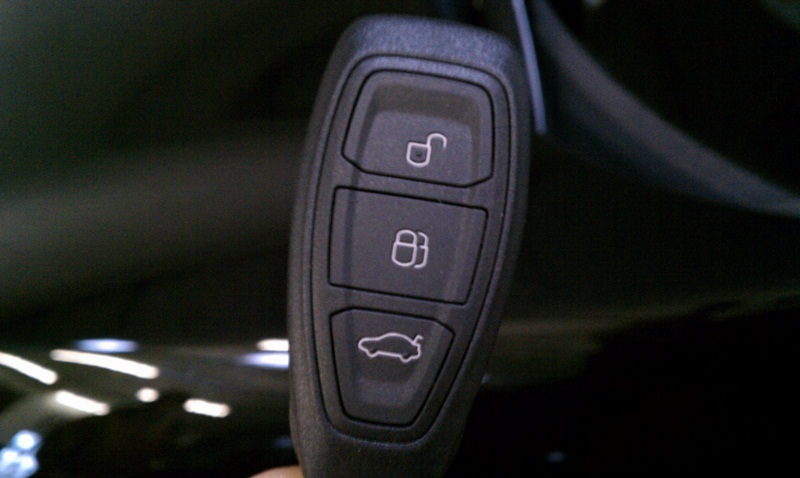 Key fob a.k.a remote with trunk release, Alarm or vehicle locator not standard!
Specs on my US Ford Fiesta 4 door SES –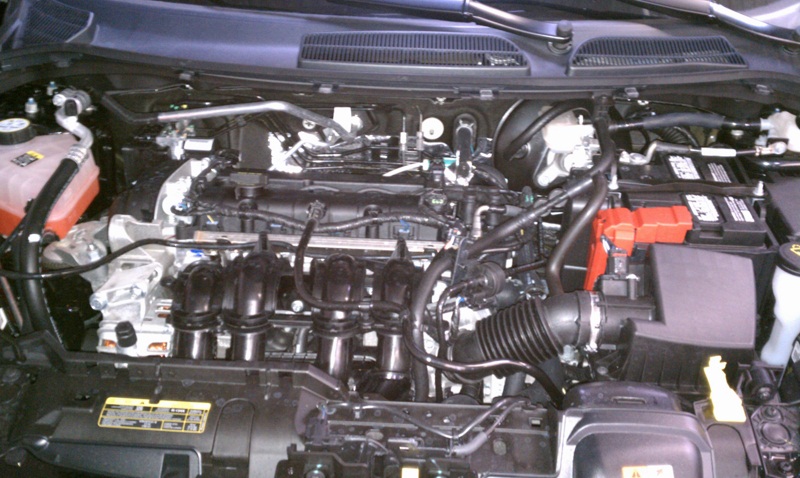 Engine – 1.6L 16V in-line 4 cylinder Ti-VCT Duratec producing 120 bhp
Transmission – 5 speed manual + Reverse
Fuel Economy (Miles per Gallon) – 28 city, 37 highway, 29 combined (manual)
29 City, 38 highway, 33 combined (automatic)
All four disc brakes with AdvanceTrac® Electronic Stability Control (ABS)
All get front MacPherson Strut and rear Twist beam setup
New Ford Fiesta Accessories
Ford offers tons of jazz on the Fiestas. Surprisingly they offer a body kit too!!! More to add are stuff like LED display gear knob for some extra money, illuminated gear knob and body graphics, ski rack, weather mats, cargo mats, etc.
New Ford Fiesta Positives in Detail
Looks – Needless to say the new kid on the block is the best looking hatch
Power – Ken block's fiesta has 2.0L turbocharged @ 650 bhp with a time of 2 seconds flat on 0-60mph. For me, 120 bhp is enough. Fiesta is quick enough if you want to play around. For enthusiasts it's a perfect mod friendly car.
Handling – the SES rides on 16" wheels shod on Hankook Optimos 195\50s. The car corners really well and has a good grip on the road.
Suspension – On the SES, I can feel the slightest thud! S, SE and SEL versions are more inclined towards the comfort side.
Air Conditioning – the HVAC system cools and warms at lower fan speed. Heated seats are a plus. My tushi feels comfortable; I call it the Tushi Warmer.
Sound – Honestly, cabin isn't quiet but the factory stereo makes it easy to drive. I would rate the audio 10 on 10 for superior sound quality and for incorporating DSP technology.
Safety – Little blind spot (convex) mirrors tucked in ORVMs cover blind spots really well. A 4.8 star crash safety rating makes it a safer vehicle in its class. Airbags all around – front, side, curtain and knee airbags
* Disclaimer – safety ratings are rated from 1 to 5 stars starting from 1 least, 2, 3, 4, and 5 being the best. 4.8 is my rating with Rear passenger leg injury rated acceptable. It has nothing to do with NHTSA's safety ratings
Space – Vehicle is big enough for me. I can run errands, drive for fun without worrying too much about fuel economy. Trunk can easily accommodate 1 large suitcase and 1 small on top of it, some bags on the sides will fill the place. Vehicle is ideal for small families – 3 to 4 members.
New Ford Fiesta Negatives –
Nothing in this world is perfect, not even Lexus'
Engine is noisy; cabin isn't quiet but the factory sound system compensates.
Low profile tires (on SES) can break your back, rides like a mustang!
No option for replacing stock stereo with aftermarket
No center armrest
Highway driving in US can be dangerous. Vehicle being light in weight and small in size cannot compensate cross winds. I felt the instability at high speeds every time an 18 wheeler passed me
More noisy at high speeds, best to keep for city
Rear headrests block rear visibility allowing one to miss thinner vertical object or even human beings
A lot said and done now let pictures do the talking.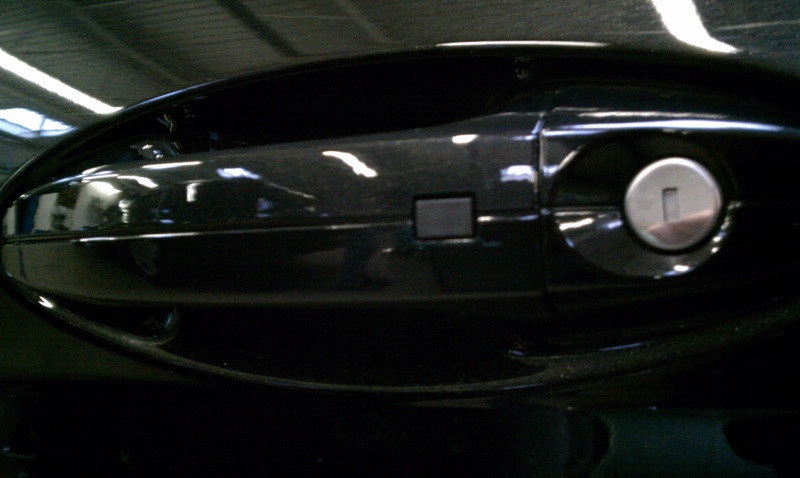 1. Keyless entry system, however an integrated key can be used if the battery dies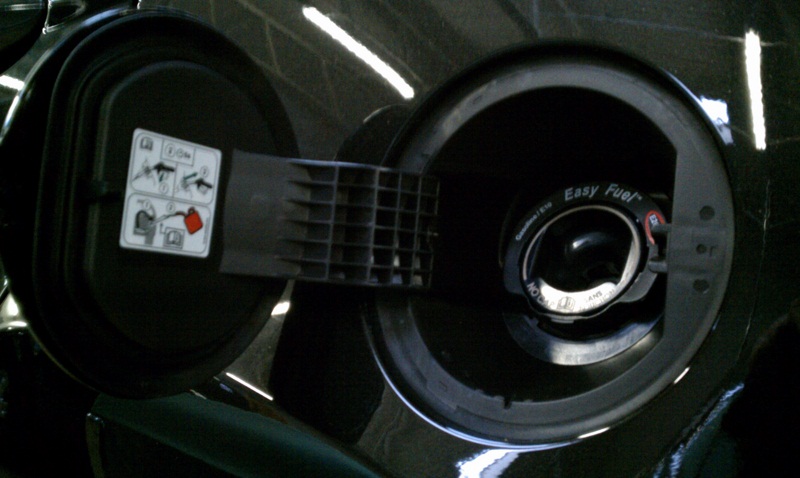 2. Easy fuel cap less filler. No fuel lid release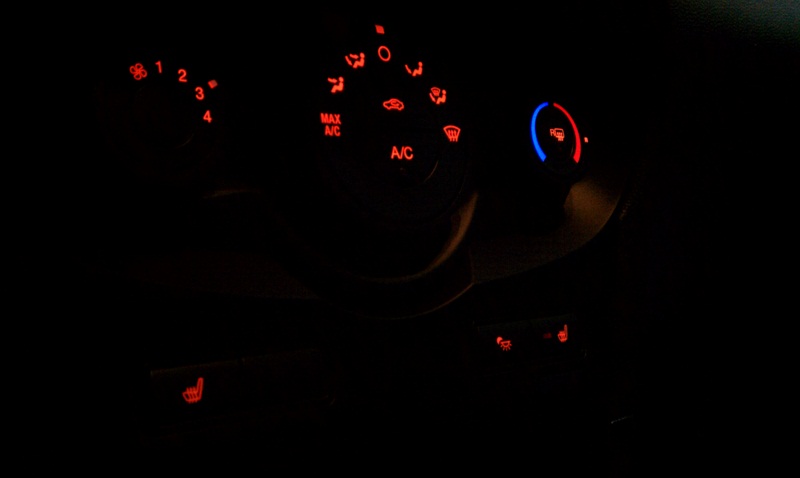 3. Air-con, heated seats and ambient lighting controls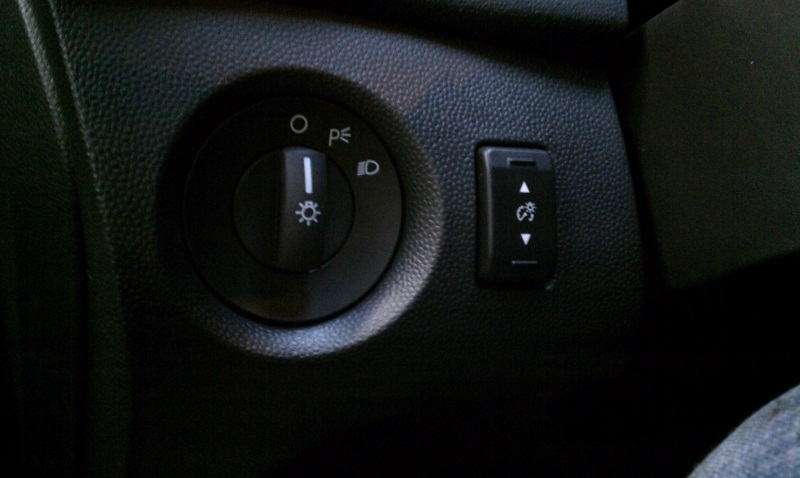 4. Lights toggle and dimmer switch . Sweet!!!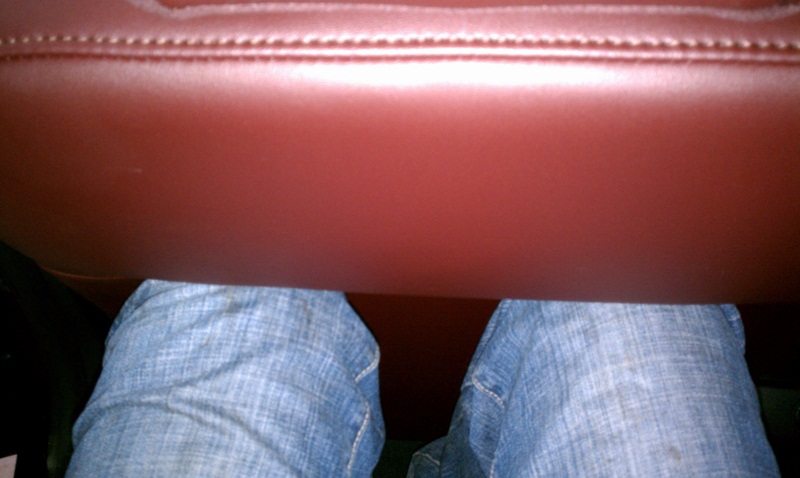 5. Space can be an issue. I being 5' 10", no one can sit behind me!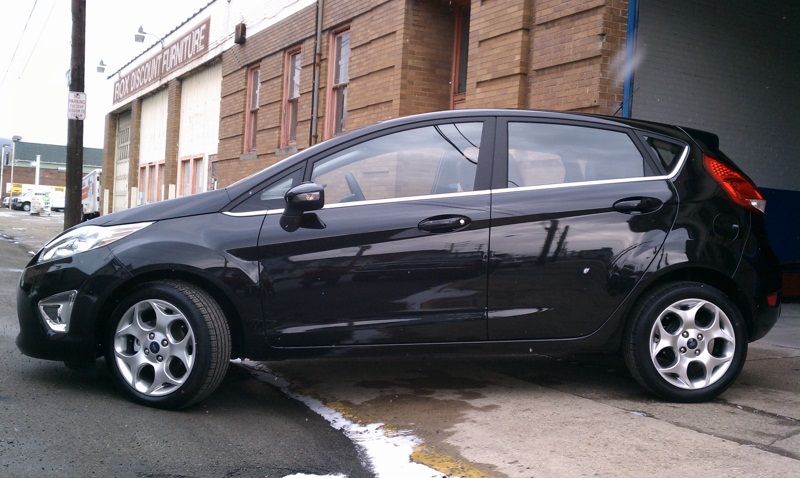 6. Side profile of the Fiesta SES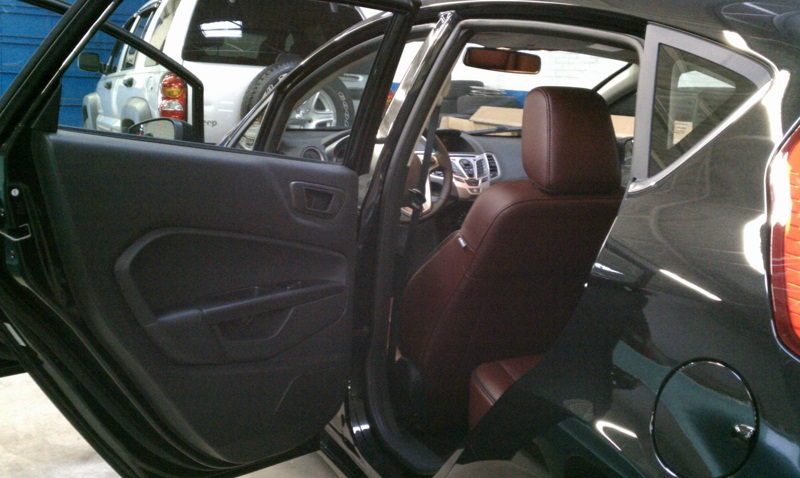 7. Doors open wide for easy Ingress and Egress. Note the driver seat all the way back, that's me!Your browser may not support display of this image.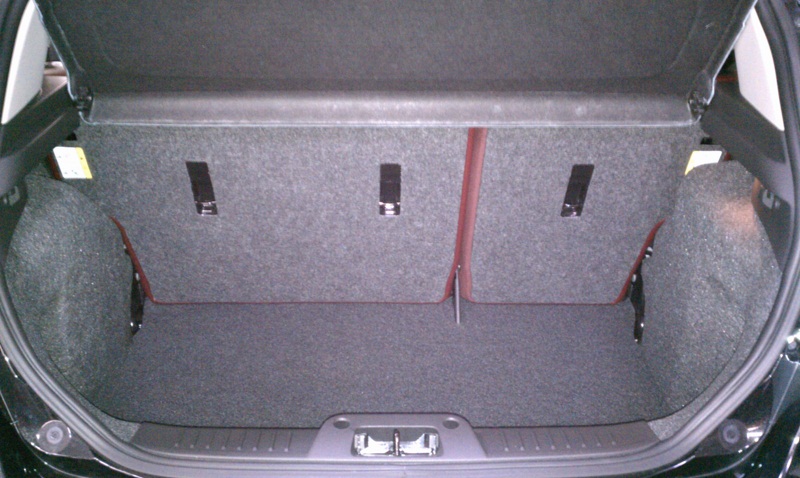 8. Big trunk for a small hatch, 1 large suitcase, 1 small, some bags and you're good to go.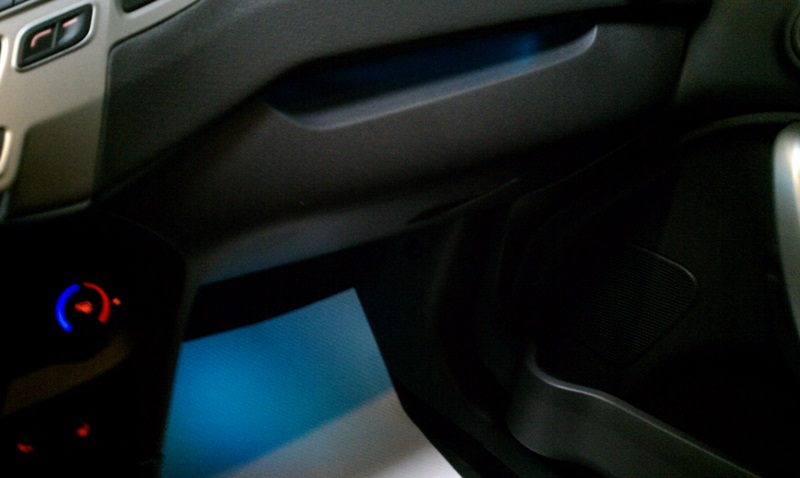 9. Ambient lighting on the SES, 7 interchangeable colors.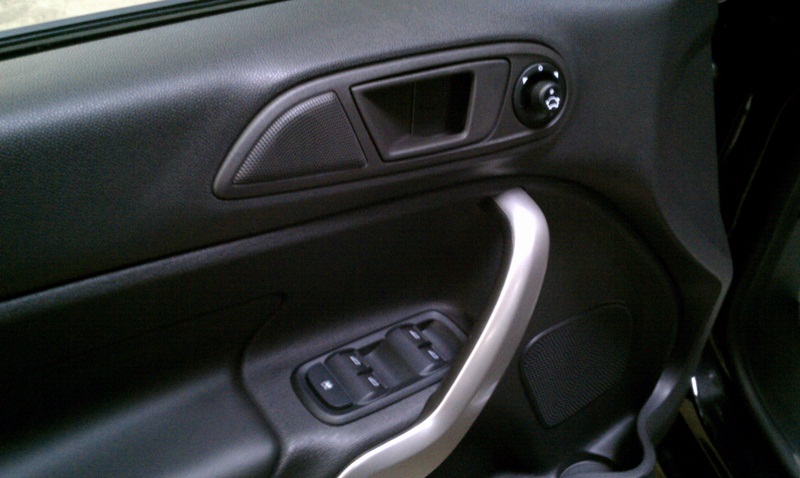 9. Door panel with all 4 power window switches, mirror adjuster. Tweeter replaces door lock\unlock button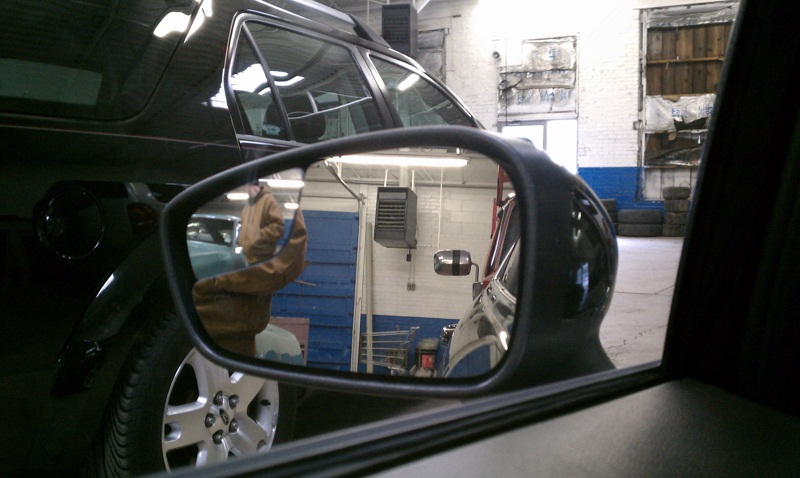 10. Blind spot (convex) mirror tucked in. You can see the difference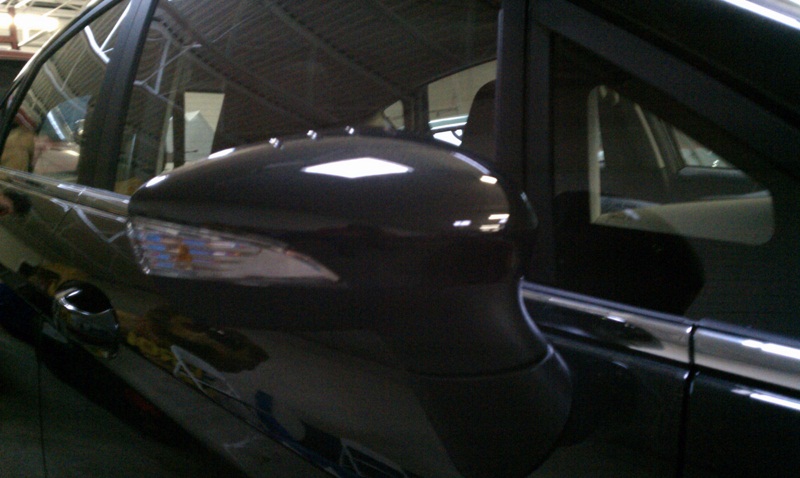 11. Integrated corner lamps on SEL and SES trim
12. What's under the hood? A - Packed 4 cylinder engine. Reminds me of my 2004 TATA Indica DLS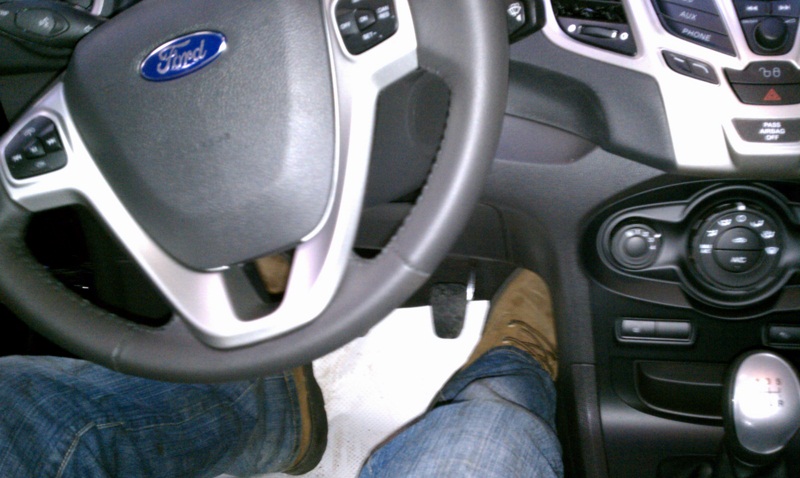 13. Pedals positioned perfect. Steering wheel mounted cruise, audio and SYNC controls to manage phone calls while driving
After driving more than 100 miles, I enjoyed it very much. Received compliments from many people, gods showed some mercy and kept the skies clear, a pleasant day to drive, what more can one ask for?
Now comes the best part, while driving in city at about 45 mph the engine noise is noticeable. As I headed towards the highway and accelerated to 60 and over I felt like driving my diesel Indica. Of course it doesn't vibrate like my Indica used to but engine noise is something I'd like to get rid of. On the other hand my Optima, a much larger sedan is quiet even at speeds like 80 mph, you can barely hear the engine running. Larger wheels and low profile tires add insult to injury.
One can feel the slightest thud on the SES version. However, S and SEL are more comfortable thanks to smaller rim size and fat rubber. Fuel economy is what I love the most. Driving mixed (city and highway) I achieved 27 mpg city and 36 highway averaging 33 mpg at 60 mph. Not bad in the US.
Parking isn't an issue in downtown anymore as I can easily parallel park this little thing and still be left with tons of space to open the hatch without banging any other vehicle. At the end of the day all the excitement minus all the negativities, it's economic and fun to drive vehicle!
The Indian version will be slightly different in some aspect. Fog lights will replace LEDs. Probably 185\65 or 60 tires on 14 inch wheels. No leather or heated seats. Blind spot convex mirror MIGHT come standard or not at all. Power under the hood may vary from 64-100bhp on either 1.2 or 1.6L Duratec engine. Ambient lighting MAY appear as an optional package. Despite of all this, it will win hearts.
What to expect from the Indian version
Engine and Performance – India being a mileage conscious market Ford may start off with 1.2L Duratec gasoline engine @ 71bhp that powers the Figo. In the later stages, they may introduce 1.4L Duratec diesel @ 69bhp or 1.6L gasoline engine @ 120bhp powering the sports version on the 1.6S variant (if launched).
On the performance side I found Hyundai santro and its competitors like the new Tata Indica, Maruti Suzuki A-star to be quick. 71 bhp is a lot quicker without compromising the fuel economy. 120 bhp on the other hand will outrun any Honda City on the road. If one is crazy enough about more power they can contact Ford and ask them to put in the 2.0L turbocharged @ 650bhp powering Ken Block's Fiesta. Yes, Ford actually built the engine!
Fuel Economy – From 1.2L Duratec you can expect about 15.7 and 17 kmpl in city and from 1.4L diesel the numbers will be much higher around 20 and 22 with and without ac respectively. The numbers on 1.6L gasoline engine will be lower your expectations given 120bhp, 2 bhp more than the current version of Honda City which will bring it down to numbers like 14 and 19, city and highway respectively
Space – Not as spacious as the Tata Indica but definitely has more space than Hyundai Santro
Comfort – The Indian version will get different wheels given the road conditions. It is expected to have either 13" wheel shod on 155\70 r 13s for more comfort or 185\60 on 14" wheels for a mix of ride and handling. As I mentioned the SES version rides on 16" alloy wheels shod on 195\50 R16s. 50 is a low profile tire and suspension has to work twice as hard to keep things comfortable. But comfort being priority on Indian roads the Fiesta won't get 16 inch wheels.
Braking – Driving bumper to bumper everyday is a big problem. Another big problem is rear ending the person ahead of you. I have had few such incidents where either I almost rear ended or I rear ended a vehicle because they would stop for no reason! Not to worry in this little thing its built Ford tough! Response time is less when you hit the pedal. ABS (Anti-lock Braking System) coupled with EBD (Electronic Brake force Distribution) makes a huge difference in braking.
Boot Space – Trunk is big enough to accommodate 1 large suitcase, a small on top of it and few bags on the side. Fold the rear seats down and wallah!!! More luggage space
Interior – Fit and finish are unquestionable. Fortunately Fiesta won't get weird interiors. Interior on the Indian version will look somewhat like this -
What more on the side –
No doubt Ford will incorporate other features from the Figo which include (FoMoCo. India website) –
Programmable Keyless Entry
Intelligent safety locking features (central locking, drive away, crash unlock, ignition off auto unlock, and auto relock)
Distance to empty display
RDS capable audio
Speed sensing volume controls
Electric boot release
Lane change indication
Hazard deceleration warning
Variable (6 Speed) intermittent wipers
Intelligent PATS
Dual Airbags
ABS with EBD
Microsoft SYNC package with an integrated Dial pad (Bluetooth connectivity)
* **Optional** - Sunroof and Ambient lighting (optional or available on top of the line version, ZXi or titanium?)
Oh! And here are some pictures of other Fiestas I test drove. Enjoy!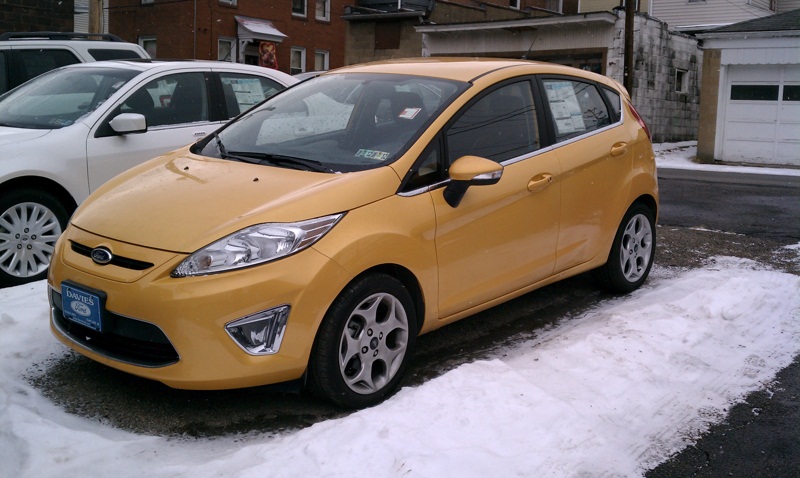 Fiesta SES in yellow blaze metallic tri-coat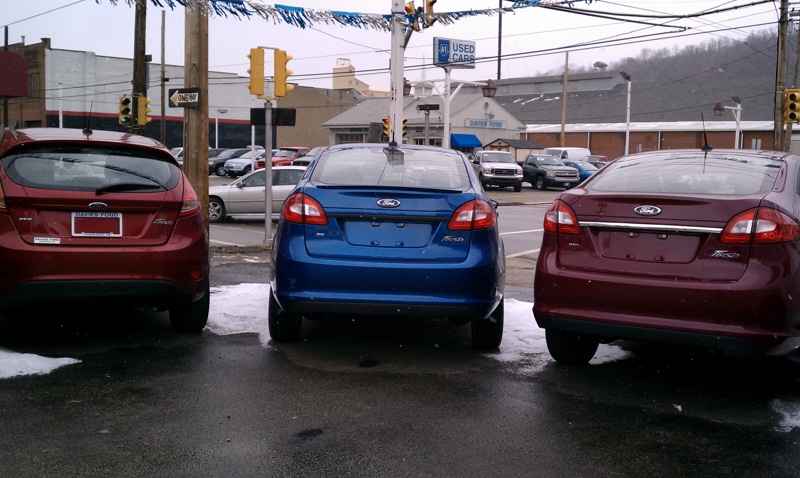 Left: Fiesta SES hatch in red candy, Center: Fiesta SE sedan in flame blue, Right: Fiesta SEL sedan in bright magenta metallic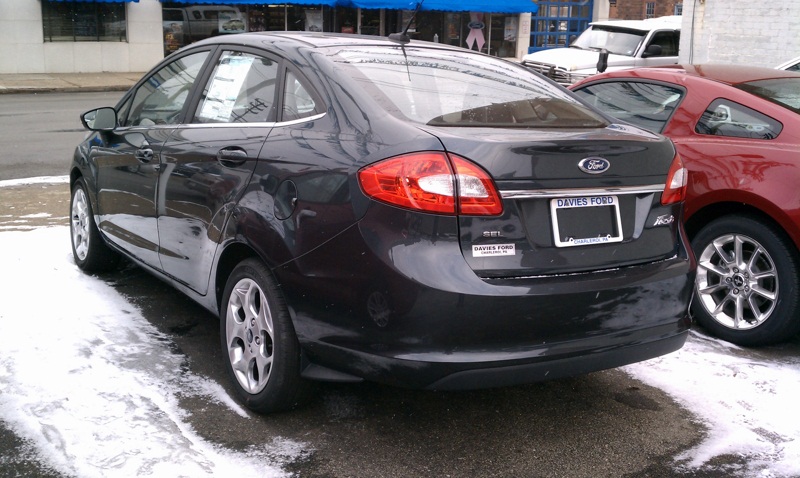 A side profile of the sedan, 15" alloy wheels on SE variant, 16" on SEL variant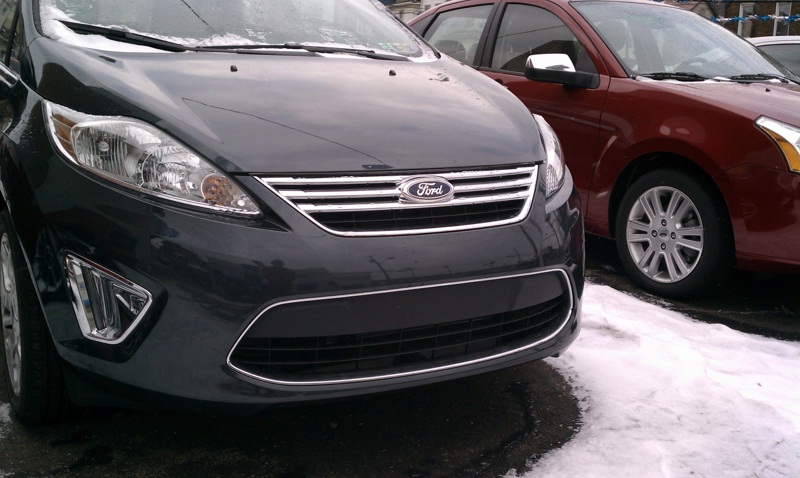 Fiesta SEL sedan in Monterey gray metallic, sedan gets a different grille.
I call it bubble-butt. It does look weird. SEL variant with 16" wheels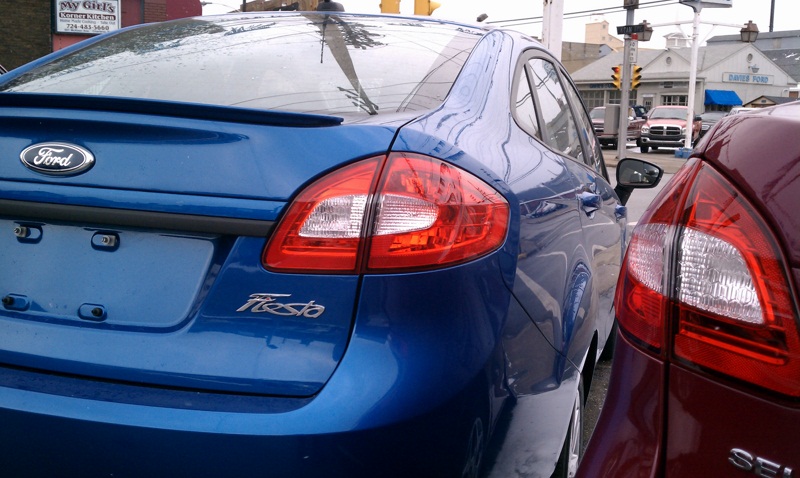 Bubble-butt's huge trunk
Indians, you are in for a very modern hatchback that makes a statement and isn't designed to be practical. It's designed to be stylish and adorable!
We'd like to hear from you - What do you think about Suhail's new Fiesta? What do you expect on the Indian-spec model?