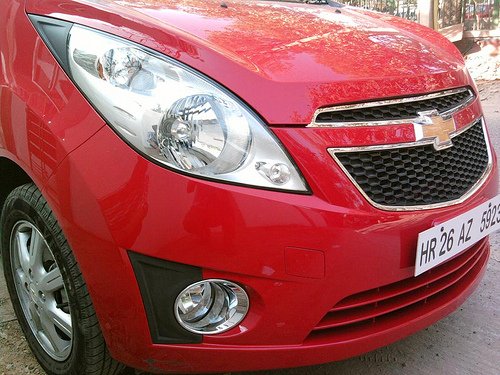 The Chevrolet Beat LT is in our garage this week
Launches, media drives and interviews, lately these were very frequent on IAB. We are back now to full test drive reports of the latest offerings from auto manufacturers in the country. In the next few days, we will be performing an extensive drive of the small offering from big American automaker which has to turn voluminous to veer towards the top three in the country. Yes we will be testing the top-end Chevrolet Beat to give u a full detailed review.
Before starting up with the drive let's list out points which we expect Beat to prove itself:
1. How does it stand apart in the most crowded segment in the country, where almost 70% of cars sold are hatchbacks?
2. Now almost every new Hatchback sold in the country runs on 1.2 Ltr powerhouse, how does this drive?
3. Does it have a big car feel inside?
4. How thirsty is it, no review in India is complete without this question.
5. Is it VFM (Value For Money)?
6. Will it cut a hole in my pocket to maintain this?
7. Can it be an answer to the most desirable Maruti or the well liked Hyundai?
8. And the most important one, does it set my heart beating rapidly?
Well to see the answers of all the above be glued to IAB for the updates.
IAB would also be keen in answering any more points that you might want to add. Feel free to use the comments box below.
Chevrolet Beat LT Image Slideshow
unable to see the slideshow above? visit the Chevrolet Beat 1.2 LT Image Gallery directly