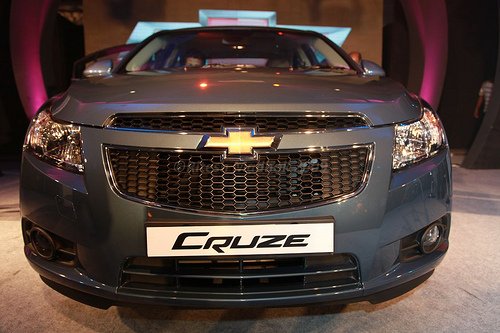 With such a bold stance, the Cruze is certainly a looker
GM India Introduces Chevrolet Cruze Sedan
Diesel performance, refinement and versatility redefine D- segment
Mumbai – General Motors India today launched the Chevrolet Cruze at a glittering ceremony in Mumbai. The all-new sedan with coupe-like design proportions, comfortable interiors and class leading features will be on sale from today. It will be offered in two variants - LT & LTZ in six exciting colors of manual transmission.
"Chevrolet has become a driving force in India's vehicle market," said Mr. P. Balendran, Vice President, GM India. "The Cruze has been receiving rave reviews since its recent debut in some other markets. The auto Journalists in India who had test driven the vehicle for their technical auto magazines and previews on TV channels have rated it as the best in its segment for its unique product attributes. It builds on the reputation of the brand for attractive design, great performance and outstanding fuel economy in the D-segment. We expect it to perform well against established D-segment players", he further added.
The Cruze is the result of a development process that fully harnessed GM's expertise. It is the first of a new family of global products from GM that delivers world class quality. It is also one of the key drivers of the global expansion of Chevrolet. Following its market introduction recently, the Cruze is being rolled out in many countries around the globe. It is backed by the highest scores in major crash safety ratings. The Chevrolet Cruze received the maximum five-star China New Car Assessment Program (CNCAP) rating, while its sibling, the Holden Cruze, received the maximum five-star Australasian New Car Assessment Program (ANCAP) rating, which is the highest score for any vehicles in its segment.
"The Cruze is all about value, refinement and power-packed diesel performance combined with an array of unique features. When you add it all up, the Cruze offers everything any discerning Indian car buyer could want in a Sedan at a price point that represents uncontestable value for money. This is a vehicle that we expect to be an instant hit!" Mr. Balendran further stated.
He also added "GM's investment in manufacturing the Cruze in India is a demonstration of our sustained commitment to making Chevrolet the most admired and preferred vehicle brand in this country. We believe this vehicle is the right product for India because of the unique product features and fine tuning that were carried out to meet the requirements of our consumer, climatic and driving conditions. As a result, we expect the Chevrolet Cruze to set new benchmarks in its segment. By introducing products like Cruze with class leading features, we look forward to continue building on the brand's success nationwide."
To enhance the customer experience, we have further expanded our network. As on today, GM India has 195 sales points and 198 authorised service outlets across the country. We intend to take it to 250 sales points and an equal number of authorized service outlets by the close of this financial year. In addition, we have also set up 4 parts distribution centres at Talegaon, Halol, Chennai and Delhi to ensure easy availability of parts.
The unveiling of the Cruze follows GM India's launches of Captiva AT and Spark LPG this year.
Chevrolet Cruze Interior and Exterior Image Slideshow
If you can't view the slideshow above, visit the Chevrolet Cruze Interior and Exterior Image Gallery directly