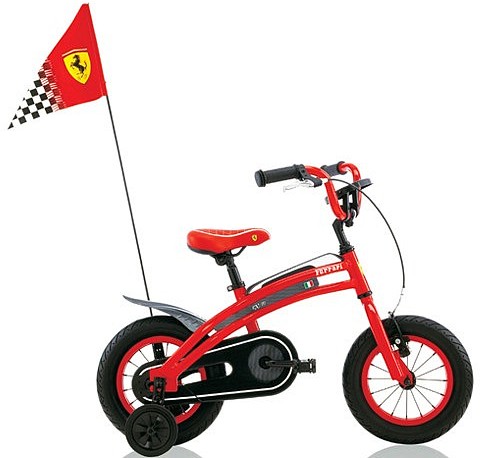 The Ferrari Enzo had bid good bye to the production line and a second hand one costs the earth. The 612 is a good alternative and by the time you obtain it, you should have lost all the hair on your head along with all the money in your bank (Not your account, the entire bank itself. Out of desperation, you would have robbed it which now is just an empty building with security guards and alarms)
So is there a way out for those who aren't Micheal Schumacher or Sultan of Brunei? Hell Yeah!
OK, this may not be classed as a Ferrari with hundreds of horse power, but who cares? This comes from the Italian Horse power maker, and even though it has 2 wheels rather than the conventional 4, it will make your son/daughter present you 'the best father in the world' badge.
Though being a bicycle, the work and design makes it no less complex or fascinating. It's made out of Hi-Tech Aluminum frame, Fe-C Alloy Fork, and Sport Style Handlebars. The bicycle also comes with terrific accessories including wheel race panel, race flag, chain protector, rear mudguard. The training wheels will help your kid get used to all the power, after which he can unleash the err beast, sans fear of falling.
The 2-wheeler will set you back by USD $479.99, but we think it's true value for money. C'mon, it's a Ferrari after all.
Source- CarZi