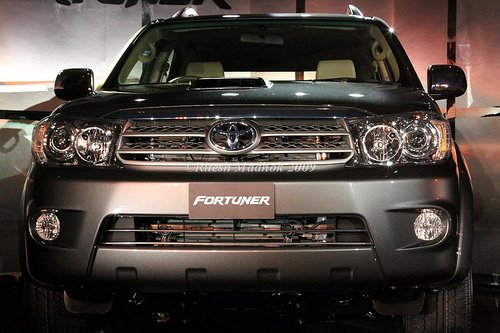 Massive, both in size and accomplishment.
Or I could title it using any of the following alternatives
Creating Storm and making fortunes for the Company
7000 in 30 days, still queues lined up for more
Reaching the years target in just 30 days
Cheques flowing, people queuing up outside Toyota showrooms to have them parked in their car parks without even taking the test drives (Even if maniacs like us wish to lay their hands behind its steering, they come destitute handed as most dealers don't even have demo or test drive cars), that's how this new butch machine has been accepted in the country.
The number of bookings have gone so far, that Toyota management has taken the control of it themselves and no more bookings are accepted in showrooms.
After seeing these Everest emulating booking figures of Toyota Fortuner, I have got my head rasping to come out with the reasons for the same. Below are the possible reasons for such a grand success, see how much I can dig out and how do yours match up with them.
Here goes the list:-
1. Toyota - name is simply enough
2. 4 years of waiting and anticipation
3. Big, massive SUV with chrome – That's what we Indians like
4. Reliable and Robust Diesel technology
5. Imitation of bigger siblings – LC Prado and LC 200
6. Because the Innova is a huge success – It's built on Innova platform
7. Only one to offer arguably the best 7 seat option in the segment
8. Permanent four Wheel drive
9. Good off road capabilities
10. Sensibly priced (below 20 L)
11. It's Big, its massive and above all, its diesel
12. White appeals max for all the White Khadi (Politicians) man of the country
13. Black appeals max for all the Pimp my Ride (Youth) lad of the country
14. Qualities of Innova with character and looks of SUV.
15. Toyota means quality and reliability.
Whatever the reason may be, the only thing I know is it's Huge, Grand, Massive Success and I'm looking forward to see a lot of them terrorizing our home grown SUV's leave alone the competition.
Hey, did someone say the Indian market is not mature enough for SUVs of this size and price?
You can look forward to the complete road test report of the Fortuner in coming weeks.
Toyota Fortuner Image Slideshow
If you can't view the slideshow above, view the images directly at the Toyota Fortuner Image Gallery