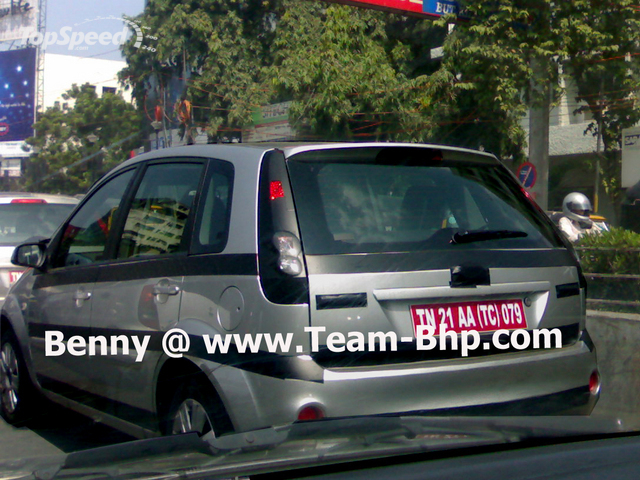 Ford India, synonymous for developing India specific cars, will launch yet another India specific model. This will evoke a lot of interest as this new hatchback will help Ford penetrate the segment that currently accounts for 70% of all cars sold in India. The spy shots reveal a car based on the old Ford Fiesta. The spy pictures a model that is dramatically different from the comparitively dull looking Mk6 European version (Im not talking about the Verve mind you). Yet there are lots of differences plain to see. The car looks almost ready with new headlamp clusters, chrome radiator grill (Indians equate chrome to big bucks), new bumpers all round, new tail lamps and some cool lines along the bonnet.
Ford's designs have been a touch on the conservative side, which is funny when you consider the fact that its European models are all very striking.  It is expected to come with a new 1.2 petrol with around 65-70bhp and the possibility of a diesel cannot be ruled out at all. It looks completely finished and the reason for the delay could possibly due to the development of an Engine plant and maybe some restyling on the lines of the Verve. Ford is planning to sell 1,00,000 of these every year with the engine plant good for 2,50,000 a year and will be state of the art facility (outside Europe)
Read the press release after the break.
Press Release-
Chennai: Armed with a $500-million investment outlay, Ford Motors has set early 2010 as the target to launch a small car in India, start its new engine-making unit and double the assembly line capacity, a top official said here.
The US-based giant will also unveil its refurbished Ikon by next month to expand its range of offerings in the country that includes Fusion, Endeavour and Fiesta, said Michael Boneham, managing director and president of Ford India.
"Ford now has a presence in only 30 per cent of India's automobile market segments. We are entering other segments too. These are exciting times," Boneham said at the company's factory at Maramalai Nagar on the outskirts of the Tamil Nadu capital.
"We are also commissioning a new engine manufacturing unit. It will serve both the domestic and global markets. It will have the flexibility to produce diesel and petrol engines. The idea is to go for higher localisation in the months to come."
Speaking about the small car project, the Ford official said it was being designed and developed specifically for India by a global team. "It will meet the needs of Indian conditions - like water wading, air-conditioning and emission standards."
While declining to divulge any further information on the project, Boneham said it will have a sub-1.2-litre engine with a length of no more than four metres to avoid higher taxes. "It will be very, very competitive in that segment."
Ford's first offering here was the "Josh machine" Ikon that rolled out in 1999 from this city, often called the Detroit of India for hosting auto companies like Hyundai, BMW, Mitsubishi, Ashok Leyland, Caterpillar, TVS, Tafe and Same.
Nissan and Daimler are among some global players that have definite plans to set up their units in this city.
Boneham said the company's integrated engine plant for 250,000 units per annum will be its first outside Europe and will make low-displacement engines for cars to be rolled out of its Indian plant for both domestic market and exports.
He said the existing $26-million diesel engine assembly plant, with a capacity for 50,000 diesel and 10,000 petrol engines for Fiesta and Fusion, would be eventually integrated with the new plant.
The company has the capacity to assemble some 100,000 cars per year at its facility here, which will be doubled to 200,000.
Queried about the future of its tie up with the Indore-based Avtec that supplies 1.6 litre petrol engines, Boneham said: "We will continue to work with them. We will look at sourcing components from Avtec."
He also sought to dispel the perception that the cost of ownership of Ford cars was high compared with those offered by Japanese and South Korean companies, as several factors like fuel efficiency and servicing were also involved.
"As per our study, in some parts we are costlier and in some others we are cheaper. Overall, we are very competitive in this area. We are working to lower component costs further. Our diesel engine is more fuel efficient than many others," he said.
"High localisation is intended to achieve that. We are extremely quality conscious. Today, we can say we are far more satisfied and comfortable with our vendors."
IAB