Car and Driver reported yesterday that Ford has announced an investment of 800 million Brazilian Real (US$ 446 million) for designing and manufacturing a new global small car. Initially the model will be produced at the Sao Bernardo do Campo situated in Sao Paulo, Brazil.
Ford has not given out the branding or specifications of the B-Segment car. C&D speculates this could be the next generation KA, inspired by the Start Concept shown in Beijing 2010, sporting the 1-liter Fox EcoBoost engine. The new B-Car could be positioned below the Fiesta hatch in developing and developed markets.
At present Ford sells the contract-manufactured KA from Fiat Poland in some European countries, a cosmetically-overhauled older generation KA in South American countries and the Figo in other developing countries to fill this void. The new B-Car could serve as a replacement for all three aging cars and help Ford reach into the sub-Fiesta space in developed markets like USA.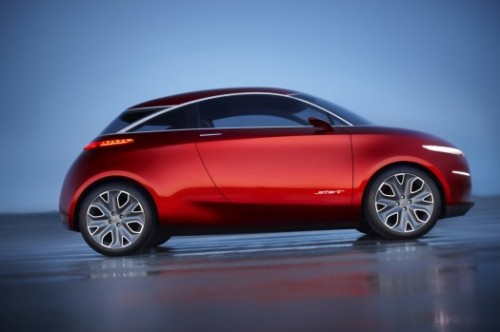 Ford's Start concept could transform into the next generation KA to fit the role of a global low-price car
Since the announcement of the One Ford global strategy, any plans for a B-Segment car anywhere in the world is relevant to the Indian market.
Car and Driver says the next generation KA sits on a shortened B-Platform that underpins the Fiesta and the upcoming EcoSport. Ford has invested a billion dollars in Gujarat on a new manufacturing facility that could roll out this model in early 2014.
[Source - CarAndDriver Brazil]