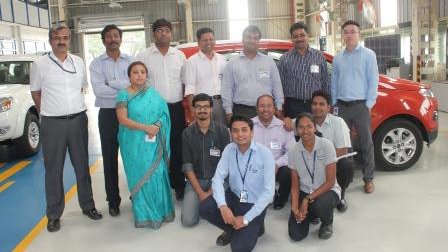 As Ford India is inching closer to the launch of the Ford EcoSport at a snail's pace, the company's training team got a first hand experience of the mini SUV.
The "train the trainers" program conducted by Ford Academy India trains sales and service personnel, in conjunction with Ford Asia Pacific Training. The two day program which was held at the company's facility in Chennai involved classroom presentations, product exploration sessions and a drive at Ford India's test track.
The knowledge acquired by the trainers during the program will be passed on to the sales team at dealerships throughout the country. The trainers were enlightened about the EcoSport's various features and technologies including the 1.0 litre EcoBoost engine.
Mr. Santhosh Kulkarni, director of Ford Academy India stated that, "It is very important to familiarize our trainers with the product as we get closer to the launch. This program gave them a unique opportunity to drive the product, look at its features from close quarters and clarify their doubts so that they can pass on the right message and knowledge to sales personnel."
The training program suggests that the launch of the Ford EcoSport is just around the bend but the exact date is still a closely guarded secret.
[Source: At.ford.com]