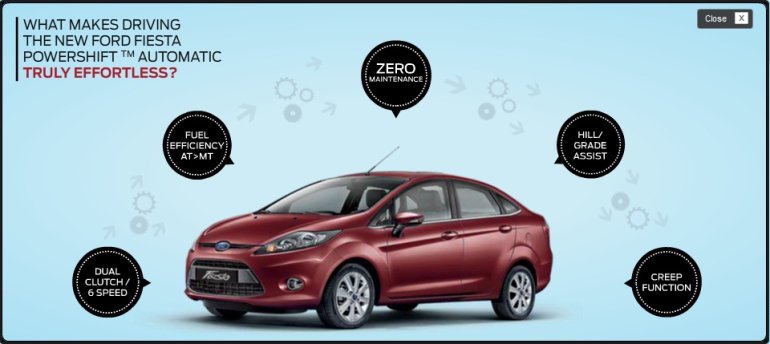 If you clearly remember, back in November 2011, we got you a review of the Ford Fiesta Automatic. We expected the car to be launched at the Auto Expo. Unfortunately, Ford India had other plans. We don't know what caused the delay but whatever it is, the wait is over! Ford India has just updated its website with the details of the Fiesta Automatic.
The Fiesta Automatic is does not change much in mechanicals except the 5 speed manual is now replaced by a 6 speed dual clutch transmission.
Ford claims that this gearbox is the most cost effective dual clutch transmission the world has ever seen. Being a dual clutch, the lag between changes is absolutely minimal and the driver is rewarded with a class leading 16.97 km/l.
The new gearbox also comes with Hill/Grade Assist and Creep Function that will help you with your day-to-day driving. Ford claims that the new gearbox will be hassle free to maintain for nearly 10 years. The Fiesta Automatic will be powered by the 110 Bhp/140 Nm 1.5 Liter Ti-VCT petrol engine. There are no plans for a Fiesta diesel automatic as there is very less demand for the car around the world and Ford seldom makes such kind of products after it began following the One Ford global strategy.
What price should Ford Fiesta AT be launched?
Source: India.ford.com