Ford India organized an off-road event at the outskirts of Delhi today. Having tried out innovative promotions for their cars in the recent past with the 'Swap your drive' and the 'Ford Fiesta Experience' campaigns, Ford heads out to send out a gentle reminder to customers who find some new utility vehicles (read Mahindra XUV500, Tata Safari Merlin) enticing.
The off road event that took place today was called the Great Ford Endeavour Drive. Organized at about 20km from Delhi, the location looked like an average Indian road magnified powerfully. Every inch was used up to test the Endy's forgotten off-roading traits.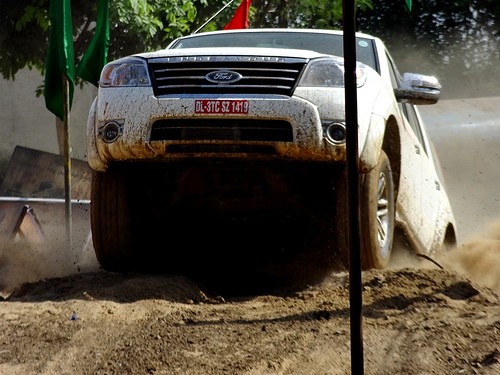 Reaching the event location was an off road experience in itself. Passing through some narrow village roads and steep inclines we reached 'Camp Wild' located deep within the vicinity.
Soon after reaching we were introduced to the Endeavour. We were then told about the other recreational activities at Camp Wild that were organized such as rock climbing, rope balancing, etc but being an automotive enthusiast we had our eyes on the Endeavour line Arjuna had on the eye of the fish.
Ford had setup an off road track which included various obstructions like inclines, alternate bumps, slush, 40 degree slope and a drift/donut area. In short it was constructed to showcase the capabilities of the humongous SUV when you are done with the weekday drill. Perfect climbs, perfect donuts, steady through the slush and a sporty jump at the end sums up our experience.
Soon after that we were given cars for our own little tests and this certainly helped to remind the ruthless brute that is the Ford Endeavour when it's not driving you to office on the tarmac. A tough cookie in short, the Endeavour skimmed through the crests and troughs as though the track was a section riddled with pot holes.
Check out the image gallery to learn more about today's adventure.
Ford Endeavour Off-Roading Experience Image Slideshow
Can't see the image gallery above? Head to the Ford Endeavour Off-Roading Experience page to see them