The Ford EcoSport is one of the prime models of the 'One Ford' global strategy. The compact SUV will be sold throughout the globe and hence it is imperative for the Dearborn based automaker to ensure that the car is safe enough.
[Can't watch the video? Head to Youtube]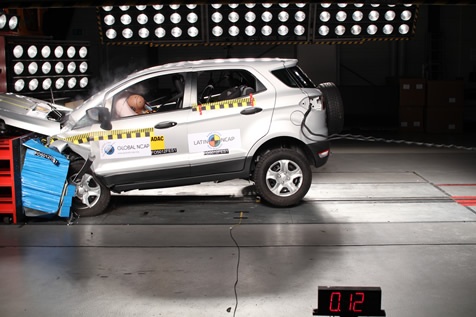 Here is a video of the Ford EcoSport's crash test at the Latin-NCAP (New Car Assessment Program). The EcoSport has managed to acquire a decent four star rating in adult occupant safety with a score of 13.64 out of 16 while it was good enough for a modest three star rating in child safety with a score of 31 out of 49.
According to the comments of Latin-NCAP, the head and torso of the front passengers are well protected while the impact protection of the knees is marginal. The car has a nicely restricted forward movement of a 3 year old in the forward facing child seat while a high chest deceleration was observed in 18 month old kid.
The Ford EcoSport which was tested was equipped with dual airbags and ABS. The European model is expected to do better in the crash tests since it is equipped with multiple airbags.
The Latin-NCAP has a frontal collision speed of 64 kmph with a 40% of the width being offset. The speed of impact is increased by 8 kmph compared to the Euro-NCAP. In real world conditions, the crash test would be equivalent to two cars colliding at 55 kmph with a 50% offset.
[Source: Latinncap.com]