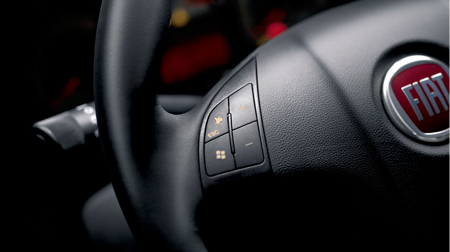 Fiat India after a disastrous June, is trying to get back in the right gear by rolling out thoughtful marketing initiatives.
Buyers of Linea and Punto this month will get three months of free fuel. In addition to that, by owning a Fiat, you are eligible to win a year's worth of free fuel. If you get lucky, you'll never have to visit the pumps again till mid 2012.
Fiat is also organizing car exchange schemes. You can exchange your old car for a Fiat Punto or Linea and get a 20k rupees exchange bonus. There are also discounts on first year's insurance. Another contest that you automatically register when you book a diesel Punto or Linea is the 'diesel at the price of petrol' contest. Winners get to drive away a diesel Punto/Linea for the price of the equivalent petrol variant.
Will you buy a Punto/Linea diesel this month?
Press Release
Fiat rolls out 'diesel at the price of petrol'
~Company set to delight customers with a chance of owning diesel at the price of a petrol car~
~ Lines up innovative and exciting offers for car buyers to help own one of Fiat's superior offerings~
New Delhi, 4th July 2011: Fiat, known for its cutting edge diesel technology now plans to drive home the superior advantage with an innovative marketing initiative. 'Diesel at the price of petrol'- a unique marketing initiative will be rolled out in the month of July and will provide the hot button for customers who otherwise would have put off the decision to buy a diesel car due to the initial cost. These initiatives are expected to make it easier for customers to own any of Fiat's superior cars - Punto or Linea, which offer great long term value. In a unique promotion, Fiat will provide car buyers with a chance to own a Fiat diesel Linea or Punto at the price of the petrol variant or equivalent cash back.
In addition to this amazing upgrade offer which a lucky few will win every week, many lucky winners will qualify for fuel vouchers for a full 1 year's supply of petrol or diesel. The offer is not limited only to the winners of the contest; in fact all buyers of Fiat cars in July will be provided free fuel for three months in addition to amazing discounts on 1st year insurance and free 50 months road side assistance. Customers exchanging their old cars to upgrade to a Linea or Punto get an additional exchange bonus of upto Rs.20,000.
Fiat has been a dominant force in diesel technology and its multijet diesel engines are used by other manufacturers across the world and in India. The lined up initiatives are bound to influence customers who would prefer to buy a diesel car due to the low running costs but are deterred due to the high initial premium they have to pay. Customers can now walk into any Tata-Fiat dealership to book a Linea or Punto and then participate in a contest which will give lucky owners the chance to own the Punto or Linea diesel at the price of the respective petrol variants.
Speaking about the initiative, Mr. Rajeev Kapoor, President & CEO, FIAT India said, "Across the world, diesel technology has evolved and diesel cars are no longer considered inferior to petrol cars. With the rise in petrol prices, diesel cars make for an even more attractive proposition and Fiat has been leading the diesel revolution across the world and even in India. The multitudes of cars which sport Fiat's multijet engines are a testimony to this fact. With 'Diesel at the price of Petrol' we plan to help more car owners have the joy of owning a Fiat diesel. "
'Diesel at the price of petrol' comes after a slew of many interesting customer initiatives by Fiat. 'Fiat First' introduced last year was an industry leading customer service programme. From making spare parts available at competitive rates to making its presence felt with 175 dealer outlets, Fiat has taken giant strides to reach out to its target audience.