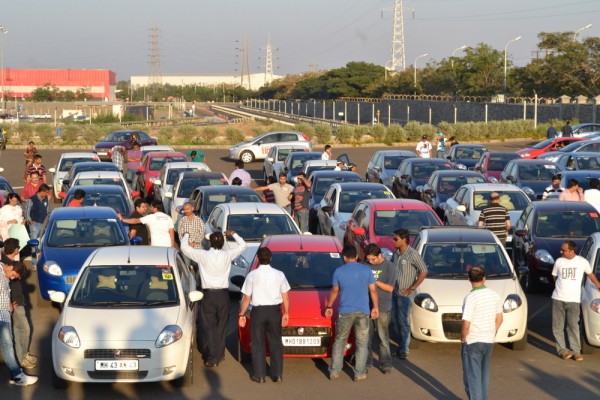 If there are two loyalist customers in India they have to be either Honda fans or Fiat Fans. Both these brands have an emotional connect with their audience that the other brands lack.
Fiat decided to invite its car owners to the Ranjangaon plant for a quick plant visit. This event saw more than 600 Fiat car owners and more than 200 Fiat cars visit the Fiat factory in Ranjangaon. The owners were given a glimpse of the manufacturing process of their cars. They were also taken to the Fiat Powertrain facility which manufactures the popular 1.3 Multijet diesel engine.
The Fiat loyalists came from every part of the country including New Delhi, Mumbai, Chennai, Bangalore, Hyderabad, Coimbatore, Trivandrum, Surat, Mangalore, Goa, Dehradun, Raipur, Udupi, Indore and Pune. This really tells you the 'pull' Fiat brand has over its customers.
Fiat India recently presented the promising the growth strategy for the Indian market. The Italian automaker is concentrating its efforts on a specific target market. There are going to be new products, new dealers, new Fiat Cafe and a renewed focus on marketing. The new brands such as Abarth, Mopar and Jeep will head to the Indian shores under the Fiat umbrella.
We had discussed about the necessity for Fiat to connect with existing owners in India in order to scale up the brand credibility, through one of our earlier Bumper to Bumper Videos and we are happy to know that Fiat is doing exactly that!
We wish Fiat all the very best for the future and hope it is the 3rd time lucky in India.