Sources have revealed to IndianAutosBlog.com that the formal ceremony to mark the opening of Fiat's first brand store in India is likely to be held on the 6th of January. Fiat has decided skip the Auto Expo and will launch its MY2012 Linea and Punto models on the 3rd in a different location.
Shortly after these models have been introduced, it will open the brand store, a new concept for a mass market brand, to the public.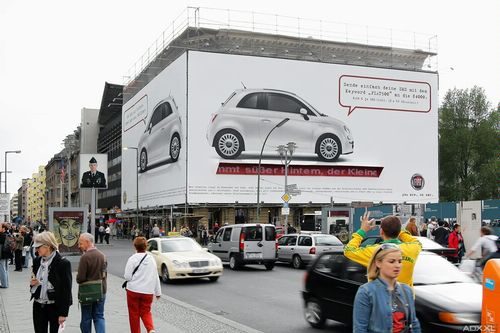 A giant hoarding during the launch of the Fiat 500 in Berlin back in 2008
The first brand store, rumored to be in Connaught place, is where customers and fans of the Italian car maker can learn about its rich history and product lines. The display area could have special visitors in the form of imported cars and theme cars.
Depending upon the response the first store generates, Fiat could put up similar brand stores in other parts of the country to raise the awareness of Fiat products, design, technology and heritage. It is created to serve future customers and fans an experience of Fiat brand. Fiat could give visitors a taste of Italy with authentic snacks and coffee, the source adds.