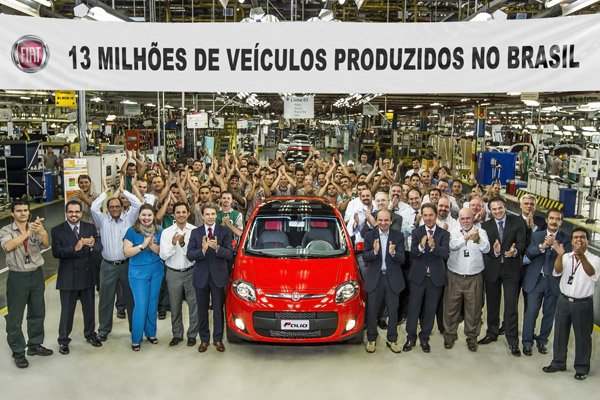 Fiat is a sidelined automaker in India with a very limited product portfolio and a negligible market share percentage.
But things are just the opposite in Brazil where the Italian brand has been having an indomitable run for years. Fiat in Brazil is like Maruti in India.
Four out of top ten best sellers in Brazil in recent times are Fiats. The Fiat Uno keeps swapping the top position with the VW Gol while the Fiat Palio has been retaining the podium position since the launch. The Fiat Strada is by far the best selling pickup in the Latin American country while the Siena is a brisk seller.
Fiat Brazil has now added another feather to its hat as the company's manufacturing plant which is located in the state of Minas Gerais has rolled out its 13 millionth locally produced vehicle. The milestone model is a red Fiat Palio.
Fiat's Brazilian plant has been in operation since 1976 with an initial capacity of 2,00,000 units per annum. The 37 year-old factory currently manufactures 16 models across 200 variants for both domestic and export markets.
The current annual production capacity stands at 8,00,000 cars and work is on to expand it to 9,50,000 units. Every day, around 3,200 cars roll of the plant's assembly line. If you do the math, that's a new car every 20 seconds!
[Source: Caranddriverbrasil.uol.com.br]