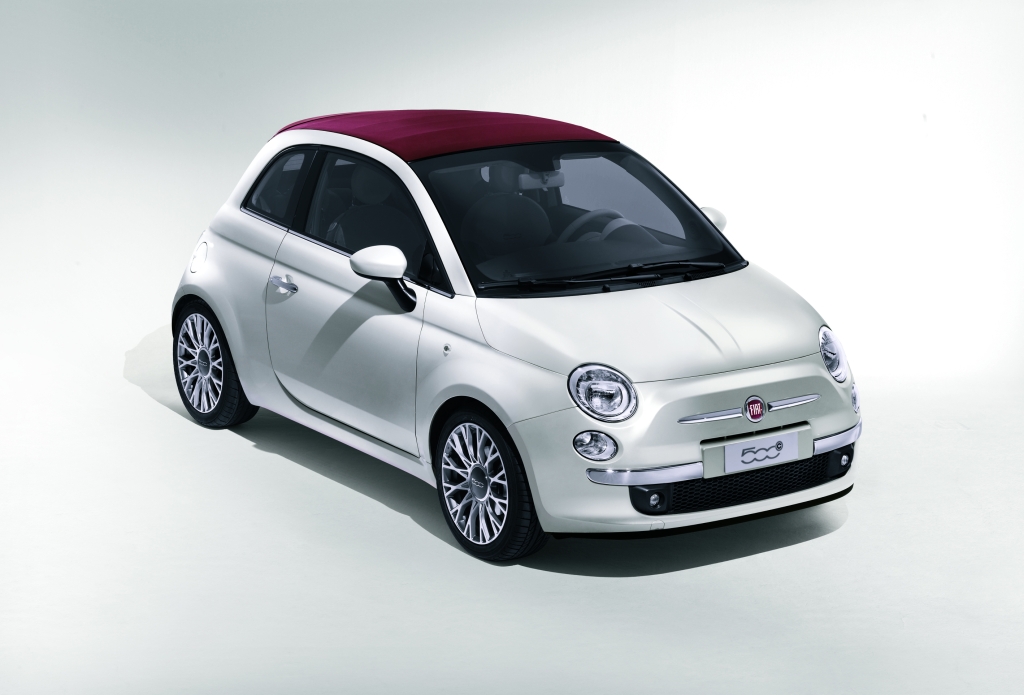 Fiat will take the wraps off of the new Fiat 500C (Fiat 500 Cabriolét) at the 2009 Geneva Motor Show next month, before its European launch in spring. But as IAB mentioned in a previous post, the official pictures had to be revealed today invariably.
Size wise, the Fiat 500C is the same as the Fiat 500 Hardtop and comes with the same engine options: 1.3L 75-Bhp Multijet Turbodiesel and the two 1.2L 69-Bhp and 1.4L 100-Bhp Petrol engines, mated to either manual or a Dualogic automatic transmission. The only difference being, an electrically-powered soft top.
Fiat 500C incorporates "Start&Stop" system recently introduced in the Hard-top
The "Start&Stop" system allows the engine to stop when shifting to neutral and releasing the clutch(when the car is stationary), and then restarts when a gear is selected(when movement id required).
Fiat says the 500C can accommodate four passengers and luggage, even with the soft top is fully open and also insists driving dynamics are not compromised, since this car is not a full convertible.
Available in 3 colours (ivory, red and black), the soft-top will be matched with several body colours, two of which have been conceived specifically for the new car in Brilliant Pearl Red and a Special Warm Grey.
A hot Abarth 500c model coming in the future is just anybodys guess.
Source: AutomobilesReview]
Press Release:
A worldwide preview of the Fiat 500C presentation will take place at the next Geneva Motorshow, before its launch throughout Europe this spring. Evocative of "freedom and emotion", this original 'cabriolet' pays homage to the open-top 1957 model whilst offering leading-edge solutions for mechanical units, powerplants and interior comfort. All this in authentic Fiat tradition giving access to higher segment engineering and technology hitherto unheard of.
Featuring an innovative softtop - a fully fledged window to the sky - the new 500C comes in the same size as the basic model (3.55 m x 1.65 m x 1.49 m) and the same three powerplants: the 1.3 liter 75 HP Multijet Turbodiesel coupled to a 5-speed manual transmission and the two 1.2 liter 69 HP and 1.4 liter 100 HP gasoline engines, available with either manual or robotized Dualogic transmission. Providing different features, all three engine types are generously sized, have a brilliant temperament and offer high performance based on sophisticated technology. Standard features include stubborn reliability and environmental friendliness.
Moreover, as proof of Fiat Automobiles commitment to ecology and sustainable mobility, the new 500C incorporates the innovative "Start&Stop" system, a device controlling momentary engine shutdown and subsequent reignition. To this end, at every stop when shifting to neutral and releasing the clutch, the engine is switched off and then restarted simply by selecting a gear.
Created by the Fiat Styling Center and manufactured at the Tichy plant in Poland, the 500C is of the "open source" design, implying the addition of new functions to a highly successful existing product. Indeed, the Fiat 500C incorporates all the strong points of the basic model, namely top-of-segment safety features, 4-adult seat habitability and generous luggage space combined with excellent loadability also with the soft top fully open, thanks to a clever parallelogram hinge device.
A highly original exercise in design, the softtop of the Fiat 500C stands out for its refined electrically operated linkage and engineering solutions of great quality and finish, such as the glass backlight and the built-in center high mounted stop light. Available in three colors (ivory, red and black), this original soft top will be matched with several bodywork color schemes, two of which have been conceived specifically for the new car, i.e. a brilliant Pearl Red and a special Warm Grey typical of sports supercars. Last but not least, thanks to the adoption of the innovative sliding softtop combined with a styling concept which retains all-round protection, the Fiat 500C offers a delightful ride in any season of the year. All told, its many special features make this new car one of the best turned out cabriolet models currently on offer in the city-car segment.
The 500C is further proof of Fiat's undisputed leadership in this vehicle class where continuous innovation ensures that its position as the industry's standard is maintained. In fact the car sets new levels of in terms of comfort and safety, engineering and appointments whilst maintaining that unique and inimitable "Italian style". A new cabriolet is born which gives great excitement and utmost driving pleasure, combining captivating lines with the performance of flexible, environment-friendly engines.