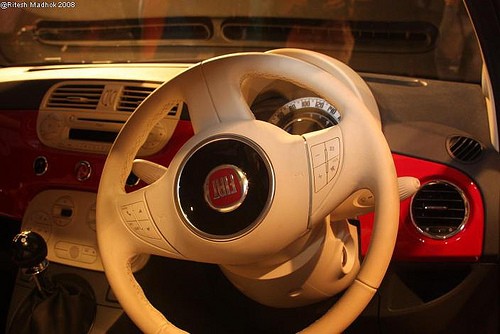 competition-tilting specifications preserves excitement in the Fiat 500
The Fiat 500 is now offered with a more fuel efficient, less polluting and segment topping 1.3-liter Multijet 2 engine in the UK. The new engine produced 95 bhp, 20bhp more than the outgoing engine and 200Nm of torque. This almost transforms the Fiat 500 into a Fiat 500 Abarth!
Imagine - 95 bhp in a car that's the size of a beer mug.
The new engine comes fitted with Start&Stop system that hibernates the engine at the traffic lights. The result of the extra power is understood when you step on the pedal. 100kmph comes in just 10.7 seconds,  almost two seconds quicker than the outgoing model.
The new 500 is capable of a top speed of 112mph.
Andrew Humberstone, managing director, Fiat Group Automobiles UK -
This remarkable new diesel engine will add even greater excitement to the fantastic 500 range, but without adding to the cost of ownership. In fact, with greater fuel economy and lower emissions, everyone will benefit from this new variant.
It is not only power and torque that's improved. The defining factor, if you're the Indian customer - the mileage, has also inched upwards.
On a combined cycle, the new 500 moved from 67.3 mpg to 72.4 mpg. CO2 emission levels have also been reduced from 110 g/km to 104 g/km, credit to the Start&Stop system and the DPF particulate filter, which is usually found on high end cars.
Source - Auto Evolution