Fiat has recently unveiled teaser sketches of the convertible version of its immensely popular Fiat 500, who managed to sell a few cars in India. The first official images will be revealed this Monday, 16th Feb. 2009, just 2 weeks ahead of the car's world premiere at the Geneva Motor Show.
These teaser sketches from FIAT has confirmed one thing, that the 500 Convertible will come with a retractable rooftop and it will feature a folding back canvas top covering the roof and the rear glasshouse. So, we can call it a semi-convertible.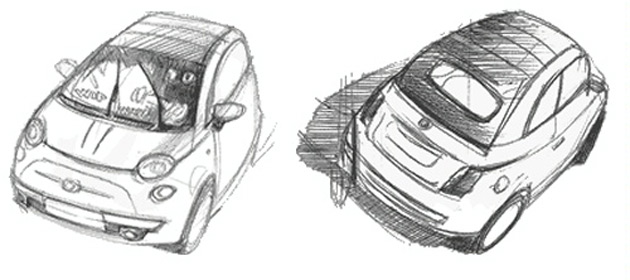 After its introduction in Geneva Motor Show, The Fiat 500 (semi) convertible will be on sale across Europe by summer 2009, and we hope after success of 500 hatch in Indian market, Fiat should plan to bring this one to India as well.
The 500 convertible is expected to come with the same powertrain options as the tin-top model including 1.2-liter and 1.4-litre gasoline engines and a 1.3-litre turbo diesel.
Fiat 500 Convertible