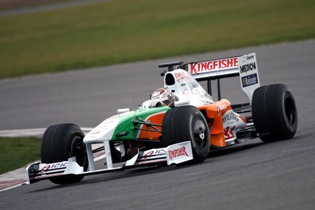 Vijay Mallya's Force India did not have the brightest of starts in Formula 1. I could even term it dreadful, since they failed to score any points in their maiden season. Last year's car had gone through a lot of developments through the races. Due to the tight competition and the advancements made by rival teams, viewers felt they were still no good.
Season 2009 promises a lot for Mallya and his team. Points scoring, it seems, should be no trouble at all for the team which has been working hard through the winter to prepare a competitive car. The rules have changed in favor of the mid-field and back runners and this should help Force India in climbing the ladder faster as the season progresses.
In this question and answer session, Vijay Mallya talks about his hopes and planning of Force India for this year's races. He also speaks about his plans with the KERS, the deal with Mclaresn, and the season opener at Melbourne.
How would you review the debut of the VJM02?
Given the time constraints we were under and the limited testing plan, I think we can all be very proud of what we have achieved. We have completed some good running, particularly in Barcelona at the second test. The drivers have said it feels very promising and if drivers like Giancarlo, with over 200 races under his belt, say it feels good it is very encouraging. We do know however that it is early days and it's not just about speed but about reliability as well.
What are the realistic aims for Melbourne now?
We can be reasonably buoyant ahead of Melbourne but there is no point in telling people that we will score points, we should go to the first few races and see. We should not make too many predictions ahead of the start of the season as what we have seen is that the field is still exceptionally close – closer than anyone would have thought, given the change in regulations. We know, as does the rest of the field, that the first four races are 'settling in' races so to speak, and we need to set a good foundation for the rest of the year.
How is the McLaren-Mercedes partnership panning out for you?
I think the partnership is working excellently now, and my confidence in it has been borne out by the comments that both the drivers and the team are making now. The car is much more balanced and has more mechanical grip and it seems to be taking root in the times we have been doing in testing. I am also pleased to see how good the team atmosphere is now; we are working as a team, not pulling in separate directions, and working as a unit to be successful. I have always believed in complete transparency and for companies to be a meritocracy, and this is what we are now seeing. The partnership seems to have been a catalyst for this.
What was behind the decision to delay KERS until later in the season?
The decision not to run KERS for the first races of the season was taken fairly early on in the winter. Given the huge volume of work we have had to do since Brazil there was a conscious move to make sure that the whole engine-gearbox package was fully integrated and understood before we took the next step of introducing KERS, which is a completely new technology for our team. We are confident that the KERS we will receive as part of the McLaren supply contract is excellent and we are ready to run at a later stage, but we need to be confident that the basic fundamentals of the car are working correctly. Other teams are doing the same so we are not be alone in our thinking.

How would you like to see the year progress?
With talent and enthusiasm I think we will score points, which will be a big step forward, but I don't want to put too much pressure on ourselves to set the world on fire. How long did Ferrari take to win the world championship with Michael Schumacher? Five years. When I say that we are optimistic it sets a huge challenge for this team. Later on in the year however there can be no excuses; I demand performance and that will be measured by how many points we can score. We have made investments and given significant changes as the team requested and I now need to see a real change in our fortunes.