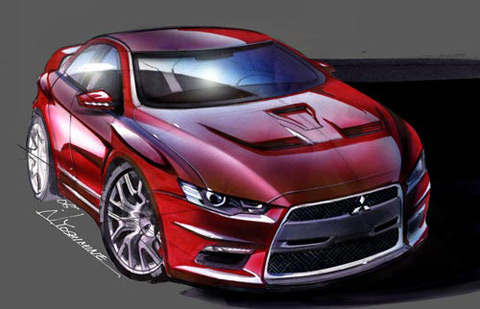 Mitsubishi is planning to bring about some radical change in the Evo 11, which will hit markets in the few years. The switch comes in the form a diesel-electric powertrain to keep it in the race as the diesel electric combo will help fight emission standards and economy impacts.
Autocar UK claims in a meeting held in Japan last month, Mitsubishi talked itself out of the petrol-hybrid option along with it went the concept of basing it on the PX-MiEV SUV concept's platform.
The diesel engine brings along with it a whole lot of hope - The combined torque of the electric motor and the diesel engine could catapult the Evo 11 to 60mph from standstill in well under 5 seconds, yet maintain the co2 emissions in the sub 200gm/km, well within the asking rate.
The revised version of the Evo's four-wheel drive system, S-AWC, which integrates steering, braking and traction control should make the car even better to drive.
The diesel-hybrid is an expensive option, but what the pundits say is diesel is yet to catch up in some important markets where the Evo has a huge presence, and this gamble to avoid being impacted by emission standards, could end Mitsubishi up in a fatal head-on collision with something even more catastrophic.
Source - Autocar UK