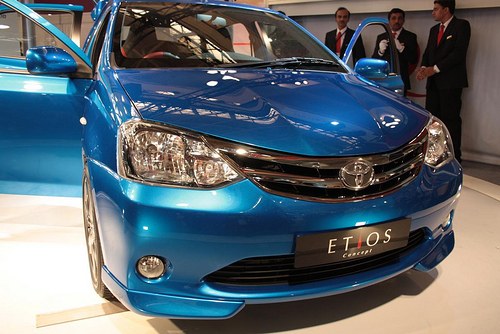 As Toyota prepares itself for the one most definitive launch in India, it is leaving no stones unturned. The much awaited Toyota Etios will hit the Indian market on December 1st and taking a cue from marketing 101, Toyota has signed up the legendary maestro (and two-time Oscar award winner) A R Rahman as the brand ambassador.
Mr. Sandeep Singh, Deputy Managing Director-Marketing, Toyota Kirloskar Motors, said:
Mr. A.R.Rahman is the pride of the nation and we are delighted to have him as our brand ambassador. In an effort to establish an instant connect between the Etios values and the Indian masses; A.R.Rahman was the perfect fit to synergize with the brand. The Etios is very important and close to us at Toyota, therefore it is but pertinent that its brand ambassador symbolizes what the product stands for
The Music maestro is very excited about the product and the marketing campaign. Speaking about his relationship with Toyota, A.R. Rahman said:
I believe real quality is created when skill meets dedication, when insight meets inspiration, when passion meets perfection. This is why I am happy to be associated with Toyota. The same values drive Toyota in whatever they do. Together, we aim to delight India!
Toyota has always chosen perfectionists as its brand ambassadors. Earlier it was Amir Khan for the Innova who is also a perfectionist in his own field. With A R Rahman signed up now, we really are looking forward to the launch.
The company is aiming to sell 70,000 units of Etios in the first year and is planning to achieve about 10% market share in the hatch segment by 2015